Vacuum Truck Operation Safety
Vacuum trucks are essential for the existence of the Oil & Gas industry, but operators of such vehicles face considerable risks on a daily basis. From exposure to toxic gases to working with highly flammable materials, cleaning confined enclosures, and driving during day and night, the hazards in this line of work can only be avoided if all employees are rigorously trained prior to their first assignments.
Potential Hazards
The most common risks associated with vacuum truck operations are:
Exposure to H2S and Other Toxic Gases.

Vacuum trucks are primarily used in the Oil & Gas industry to help clean up, transport, and dispose of waste materials. The latter usually consist of corrosive and toxic liquids that may release harmful fumes while being sucked in and out of the vehicle. Furthermore, substances that are being loaded into the vacuum truck can mix with leftovers from previous operations and produce similarly dangerous gases. Hydrogen Sulfide (H2S) is one such by-product of vacuum truck operations. In small quantities, it can cause dizziness, nausea, and irritation of the eyes and skin. In large amounts, however, it can be fatal.

Explosion and Fire.

The materials being transported with the help of vacuum trucks are highly flammable and must be handled with great care. In addition, some of the fumes that result from vacuum truck operations are just as dangerous. Due to negligence during loading or unloading, but also due to a build up of combustible gases or the agitation of materials during transport, explosions can occur, followed by fire outbreaks. The latter will affect not only the operators of the truck, but also nearby civilians and communities.

Working in Confined Spaces.

Vacuum truck operators are often required to enter the vehicle's oil tank for cleaning purposes. Due to the nature of the enclosed space and the unsuitable atmosphere it contains, this can lead to serious injuries and/or maintenance errors that can later result in dangerous chemical reactions between different types of waste. Only those operators who are trained to recognize the dangers of working in confined spaces should be allowed to perform cleaning tasks inside oil tanks.

Driving Hazards.

During the transportation of waste material, a vacuum truck tends to heat up significantly. The driver must therefore pay attention to the road, but also ensure a continuous flow of air through the vacuum system in order to avoid an explosion. Traffic accidents can take disastrous proportions when vacuum trucks carrying combustible materials are involved. Operators must be familiar with safety driving practices and maintain their focus at all times.
Incident Prevention
Vacuum truck operators perform vital, but very dangerous tasks. As such, they must be made aware of the risks commonly associated with their sector before they are entrusted with an assignment. In addition, operators must develop the ability to assess certain risks on the spot, as well as to implement immediate measures in order to avoid accidents. To acquire both the necessary knowledge and the required competence, all vacuum truck operators should undergo rigorous safety training.
In addition, the correct use of personal protective equipment can significantly reduce the likelihood of injury. Respirators, for example, are an essential tool when working with or around H2S and other dangerous gases. Cleaning the oil tank of a vacuum truck also requires operators to wear respirators, as well as chemical gloves and full-bodied protective gear.
Safety measures must be devised and implemented by supervisors on all sites where vacuum trucks are used. For example, it must be established that no chemical reactions will occur as a result of the mixing of different types of waste before the truck is loaded. The operation should be carried out in specially-designated areas to minimize the risk of fire and explosions, while trucks should be positioned in such a way as to avoid or reduce the workers' exposure to toxic fumes.
Recommended Safety Courses
H2S Awareness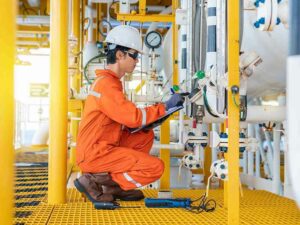 Vacuum truck operators must frequently deal with hydrogen sulfide, a potentially deadly gas. As such, all operators should receive rigorous training with regards to the hazardous nature of H2S, how it might occur in their day-to-day activities, and how they can protect themselves from danger while working around it.
TDG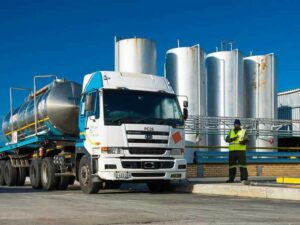 All employees who are required to transport dangerous materials on Canadian territory must obtain TDG certification before they perform this task. The course is designed to help drivers acknowledge the perils of transporting dangerous goods and implement a series of safety measures meant to protect them and the communities they navigate.
Confined Space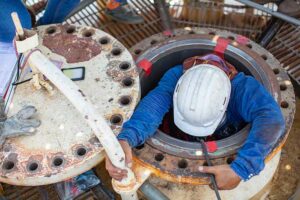 Working in a confined, poorly oxygenated space can lead to confusion, dizziness, and even loss of consciousness. Given that vacuum tank operators must clean enclosed spaces that are contaminated with potentially deadly gases and substances, they should never be allowed to carry out these tasks without proper training and supervision.
What You Can Do to Stay Safe
As a vacuum truck operator, the first step you must take to maintain your safety and that of your colleagues is to undergo the necessary safety training. Across all Canadian jurisdictions, your employer is responsible for your training and must provide access to the right safety courses as soon as possible after you are hired.
To consult a complete list of safety courses best suited for your line of work, please visit our Oil & Gas industry page and navigate to your specific job.
To review a list of safety courses for your industry, please visit our Consultation Page.