How to get WHMIS Certificate?
What is WHMIS? The Workplace Hazardous Materials Information System (WHMIS) provides Canadian workers with information about hazardous products used in the workplace. Under WHMIS, workers have the right to receive […]
What is WHMIS?
The Workplace Hazardous Materials Information System (WHMIS) provides Canadian workers with information about hazardous products used in the workplace. Under WHMIS, workers have the right to receive information about each hazardous product they use – for example, its identity, hazards and safety precautions.
WHMIS stands for the following:
Workplace: Deals only with products used in the workplace. For example, an employer whose workplace handles hazardous materials, or a person responsible for health and safety in the workplace.
Hazardous Materials: Refers to dangerous products that may cause fire, explosions, or health problems.  For example, Flammable and Combustible Materials, Poisonous and Infectious Materials, Biohazardous Infection Materials etc.
Information System: Is concerned with the optimization of information, policies and processes.
Originally established in 1988, the purpose of WHMIS is to ensure employers and workers receive consistent and comprehensive health and safety information about the hazardous products they may be exposed to at work.
By setting standards for the type and amount of information to be given to the users of hazardous chemicals and biological agents, WHMIS is intended to reduce workplace injuries and illnesses related to such products.
What are the components of WHMIS?
There are four key components to WHMIS:
Identification (classification) of Hazardous Products.
Labels.
There are two types of WHMIS 2015 labels: supplier labels and workplace labels.
Supplier Labels: Supplier labels appear on hazardous products purchased from suppliers. The information on the label must be provided in both English and French. Supplier labels provide information about a product's hazards and about handling the product safely. This information is standardized and is based on the hazard classes assigned to the product.
Workplace Labels: An employer who produces a hazardous product in its own workplace must ensure that the product or its container has a workplace label. The workplace label requires no specific wording or format. Requirements are deliberately broad and general. However, in spite of the flexibility given to the employer under these regulations, there are some commonly understood expectations that will be described in the fourth module of this course.
3. Safety Data Sheets (SDS).
The Safety Data Sheets, or SDSs for short, is an important source of information for the worker at the worksite. The purpose of the SDSs is to provide detailed information on the ingredients, hazards and properties of a hazardous material (controlled product) in order that it may be used safely.
4. Worker Education and Training.
The fourth part of the WHMIS system, worker education and training, explains the WHIMIS 2015 system and gives workers specific safety training, about the hazardous products they work with, are exposed to or produce.
Pictograms are graphic images that immediately show the user of a hazardous product and what type of hazard is present. With a quick glance, you can see, for example, that the product is flammable, or that it might be a health hazard.
As with WHMIS 2015, Pictograms now show the type of hazard at a glance. There are 10 pictograms, assigned to specific hazard classes or categories. In WHMIS 2015, most pictograms have a red, diamond-shaped border, compared to Pictograms from 1988, which have a black, round border. Inside this border, there is a symbol that represents the potential hazard (e.g., fire, health hazard, corrosive, etc.). Together, the symbol and the border are referred to as a pictogram. Pictograms are assigned to specific hazard classes or categories.
Some WHMIS 1988 symbols such as the "Exclamation T "(for Other Toxic Effects) and the "R" (for Dangerously Reactive) have been fully replaced and are non-existent in the new system. New symbols such as the Exploding Bomb, Health Hazard and Exclamation Mark have made the new pictograms more specific and more useful.
How do I get my WHMIS Certificate?
To obtain a certificate in WHMIS, you must become familiar with the national system for classifying hazardous materials and become able to recognize pictograms, labels, and signs specific to WHMIS. In addition, you must be able to identify different hazardous substances, choose the correct protective equipment, and safely handle, store, and/or dispose of such materials while at work.
Our WHMIS course is designed in accordance with the latest national safety standards and includes information regarding the international standard GHS or the Globally Harmonized System of Classification and Labelling Chemicals. With our training system, you can get the certificate on the same day or you can learn at your own pace and decide when you want to finish your training.
How long does WHMIS certification last?
Canadian legislation recommends that WHMIS training should be completed on a yearly basis. In addition, because different jobs imply distinct work environments/conditions, employees must re-take this course whenever they change employers.

How much does it cost to get your WHMIS Certificate?
WHMIS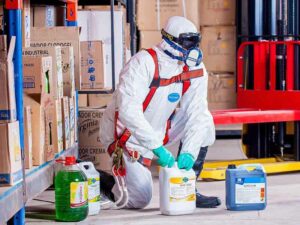 The pricing is going to be different from one company to another.
With eSafetyFirst, the price is only $23.95 per attendee, with massive discounts based on the number of courses purchased. Our calculator allows you to compare prices with other companies for up to 250 users.
For medium to large companies, we guarantee the best price on the market, in average about 20% cheaper than our online competitors and 10 times cheaper than hiring an instructor and proceeding with offline training.