How to get a forklift license in Canada?
Canadian forklift regulations Forklifts (or Powered Industrial Trucks / Lift Trucks) are found in a large and varied number of industries. Their primary objective is to move materials by transporting, […]
Canadian forklift regulations
Forklifts (or Powered Industrial Trucks / Lift Trucks) are found in a large and varied number of industries. Their primary objective is to move materials by transporting, raising, lowering or removing a variety of different-sized objects in boxes, on crates, pallets or other containers.
The Ministry of Labor (MOL) conducts regular inspections of companies to ensure compliance with current forklift certification standards. The objective is to increase advocacy and awareness to prevent industrial accidents, damage, injuries, and fatality.

According to the present legislation, MOL will focus on lifting devices specifically for their regular inspection and proper maintenance. They will also prioritize the assessment of the forklift operators and supervisors to ensure that they have adequate knowledge to operate the truck and oversee the operation, respectively.

Training records will be inspected upon inspection to check if the employer incorporates the lift truck training into the health and safety program of the company. Workers can be assured of a regular provision of training ensuring the ability and skill to drive the machine.
Canadian Standards Association (CSA) oversees the implementation of the safety standard.
The latest regulation Safety Standard B335-15 details the elements and specifics of the lift truck operator training program, trainer's requirements and truck maintenance procedure for the company to obey. This regulation has been released to update the existing one.
How to get a forklift license?
eSafetyFirst Forklift Training program has been developed in accordance with provincial legislation as safety training for workplaces across Canada. This course consists of 4 modules and tests.

Once you pass all the tests, you may print your certificate of completion (wallet & wall-sized). Training may be paused or resumed at any time, is fully narrated, and includes interactive exercises to ensure understanding of course content.
Forklift trucks should be operated only by experienced workers who are trained, certified or licensed to perform this task. Some jurisdictions specify that only a "competent" or "authorized" person may operate powered lift trucks and others may specify a minimum operator age (e.g., 18 years or older). Check with your local occupational health and safety authorities for more information.
Employers who use forklifts in their establishments are responsible for the implementation of forklift training programs for all workers. That being said, it is the employee's responsibility to complete the program and apply the safety measures they have learned in order to maintain their safety and that of their colleagues in the workplace.

Potential new employees who know that they are likely to be required to operate forklifts at work can independently acquire and complete this safety course to improve their CVs.
Certification of forklift operators is usually a process consisting of both theoretical and Hands-on Practice & Evaluation. Once the theoretical course is completed, under the assistance of a workplace supervisor, the trainee will need to go through:
Hands-on Practice – This involves the trainee using his/her physical ability to use the designated forklift.
Practical Evaluation – This involves demonstrating proficiency in daily forklift operations.
The evaluation shall be conducted on the specific work tasks and using the type of forklift to which trainees are assigned and should include the basic following tasks:
pre-operational inspection;
start-up;
travelling, with and without a load (including pedestrian safety);
load handling;
driving on ramps and grades;
using elevators;
shutdown; and
refuelling/recharging.
Once the employee has successfully completed all steps they are considered to be a certified operator.
Depending on their work activities and the hazards presented, it is recommended that Forklift operators undergo WHMIS and TDG training.
How much does it cost to get your forklift license?
Forklift Safety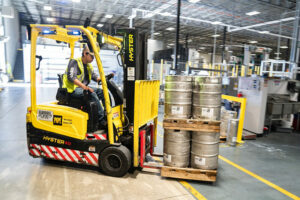 The pricing is going to be different from one company to another.
With eSafetyFirst, the price is only $36.95 per attendee, with massive discounts based on the number of courses purchased. Our calculator allows you to compare prices with other companies for up to 250 users.
We guarantee the best price on the market, 20% cheaper than our online competitors and 10 times cheaper than hiring an instructor and proceeding with offline training.