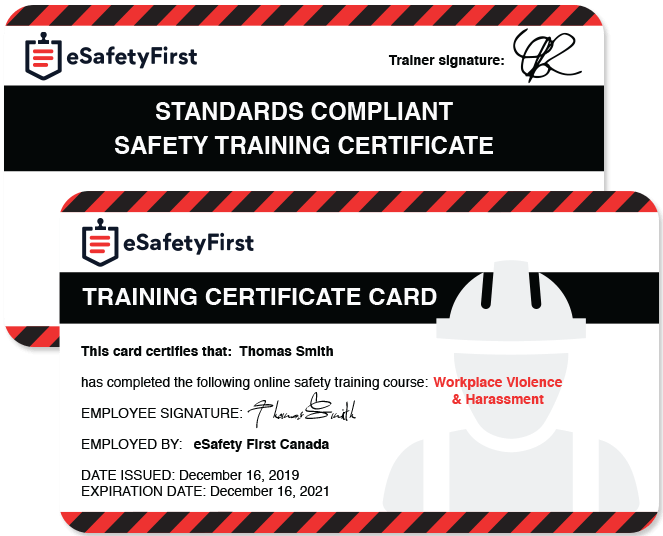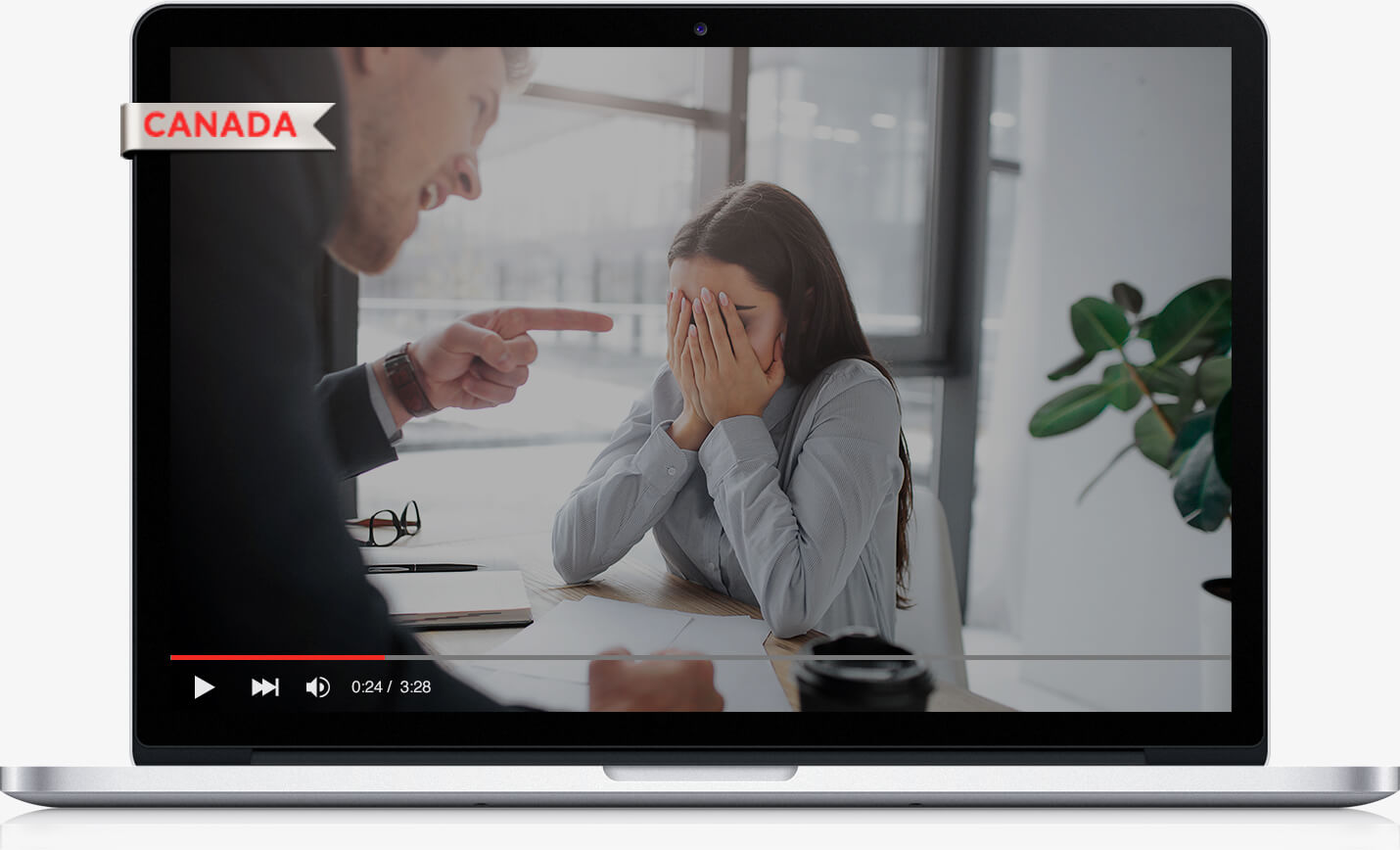 Workplace Violence & Harassment
Course description
This course brings together the latest standards in harassment and violence prevention and control and will give you the training you need to help avoid harassment and violence in the workplace, including outlining the procedures your employers should have in place to help you report issues as they arise.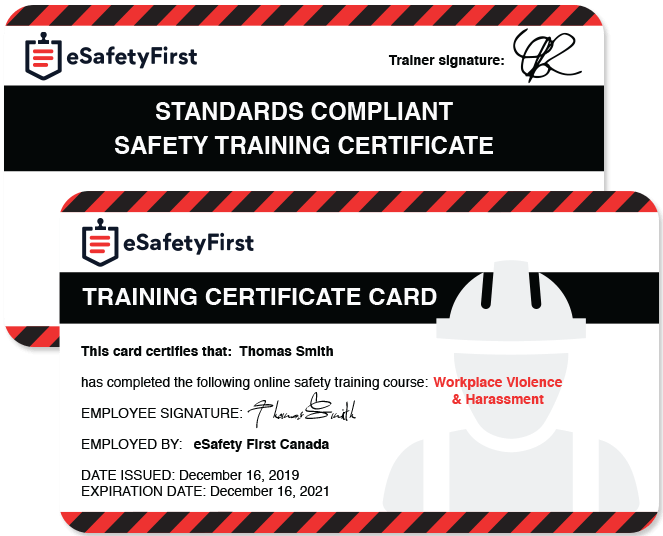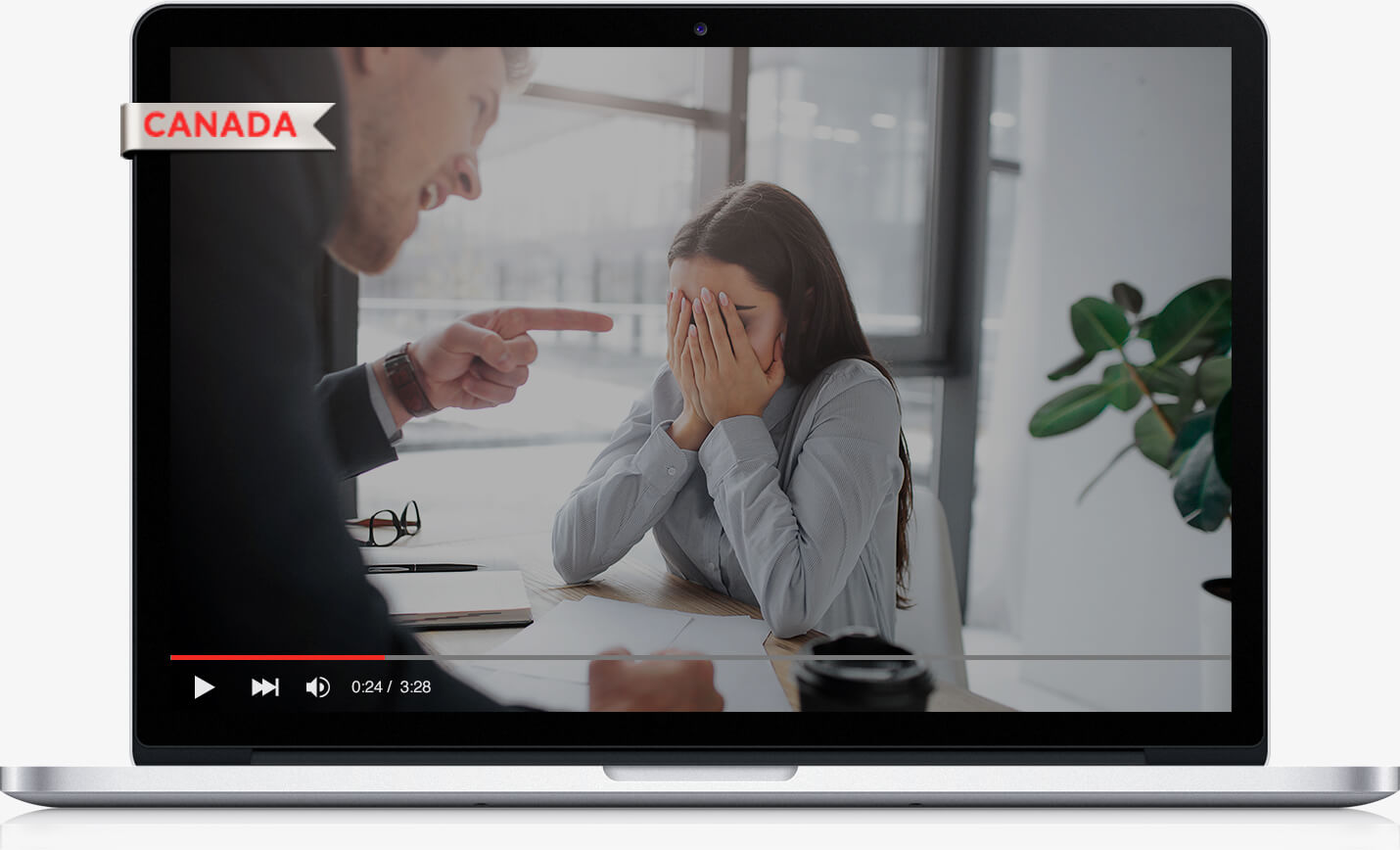 Accepted Across Entire Canada
Alberta
British Columbia
Manitoba
New Brunswick
Yukon
Nova Scotia
Ontario
Prince Edward Island
Quebec
Saskatchewan
Northwest Territories
Newfoundland and Labrador

This online course helps workers to understand their rights and responsibilities to help contribute to a workplace free from all forms of violence and harassment. In this course, you will learn what constitutes harassment, the duties your employer has to institute programs that prevent harassment and violence, and the policies that should be in place at your workplace to report and control such harassment or violence if it occurs.
Most employees should receive this training. It will help you to know how to identify harassment, and to make sure you are able to work with your employer to stop the potential harassment and violence before it significantly affects you or other coworkers.
Your employer can help you decide if this training is right for you, but in general, we recommend this training for all Canadian workers, regardless of industry or employment type, as harassment and violence is possible in any workplace where you are in contact with other workers or members of the public.
This course includes the latest safety regulations and procedures to prevent violence at work. The main topics covered include:
Types of harassment and workplace violence
Violence & harassment prevention programs and policies
Recognizing the potential for harm; warning signs
Incident reporting and investigation
Review of regulations
We recommend retraining every year. You may also be asked to recertify if you change jobs.
Once you have completed the course modules and passed the online test, your certificate will be instantly available for you to download and print.
With eSafetyFirst's online training, completing your required training is easy and showing proof of your certification is even easier. Learn at your pace, when and where you want, and have instant access to your certification records as soon as coursework is complete.
Please note: eSafetyFirst is a private company and is not a part of Canadian OHS, so we cannot look up or access certificates that you may have earned previously by other private companies.
Once you complete your training with us, your certificate will be available instantly to download and print. If you need a renew for your certificate, you can also do that online, on our website, by placing an order above.
Please note that eSafetyFirst is a private company and we are not associated with other training institutes. If you have completed your training program with a different company, we are unable to locate your previously obtained certificate as they are not stored with us.
In such cases, you need to address your phone call to the company you conducted business with.
We have Certified Employees of:
1
Introduction
In this module you will learn about the definition of workplace violence and harassment, the relevant legislation, the responsibilities of companies and workers as well as essential methods that should be used to prevent workplace violence.
2
Personal Prevention
This module will provide valuable knowledge, information and skills that will contribute to the elimination of the potential of violence in the workplace as well as specific scenarios and preventions.
3
Responding to Violence
In this module you will learn how to properly respond to workplace violent incidents as well as how to file a report in case such incidents arise.
WHY CHOOSE eSafetyFirst
Hassle-free online training
eSafetyFirst is the convenient, hassle-free online training solution for anyone who needs fast Workplace Violence & Harassment training or re-training. This course isn't your average, bland workplace safety course that workers forget.
Each module is engaging, memorable, and fun! Workers can finish the course AND exam the SAME DAY or go at their own pace. Employers benefit from our bulk pricing and fast, simple training.
Employees can get their practice out of the way fast and have fun doing it!
Employer Discounts
1-3 workers

$

36.95/worker

You

save 26%
4-7 workers

$

32.95/worker

You

save 34%
8-12 workers

$

28.95/worker

You

save 42%
13-20 workers

$

24.95/worker

You

save 50%
21-50 workers

$

20.95/worker

You

save 58%
>50 workers
Contact us for Custom Offer
OHS Standards Compliant
Learn at Your Own Pace
Printable Certificates
Industry Recognized
Instant Access
Unlimited Exam Attempts
Dedicated support
100% Employer Approved