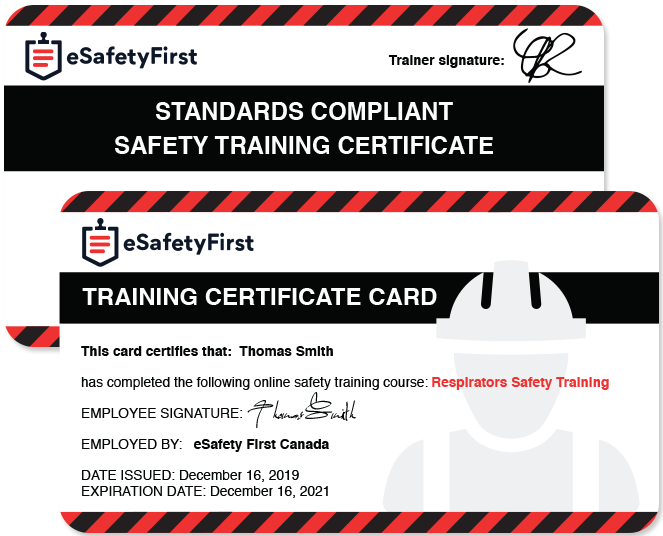 Respirators Safety Training
Course description
Although the current trend is to eliminate respiratory hazards through new technologies, employees across a number of industries are still required to interact with hazardous atmospheres on a daily basis. This Respiratory Protection course aims to teach employees how to choose and use the correct type of equipment in order to minimize the risks associated with airborne toxic substances.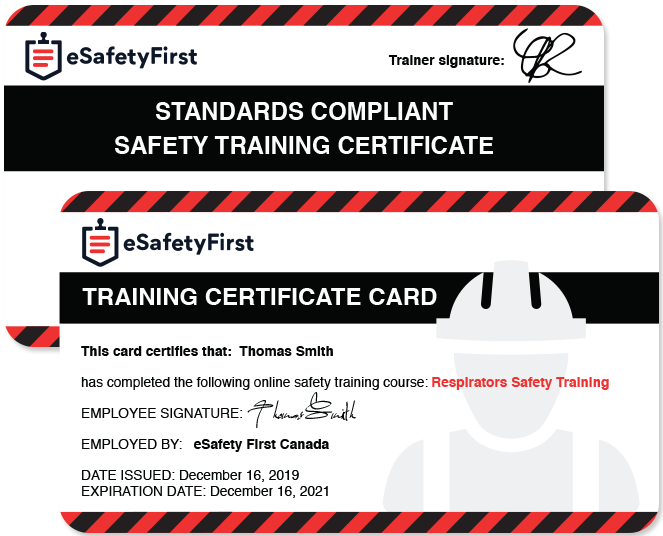 Accepted Across Entire Canada
Alberta
British Columbia
Manitoba
New Brunswick
Yukon
Nova Scotia
Ontario
Prince Edward Island
Quebec
Saskatchewan
Northwest Territories
Newfoundland and Labrador

When working in an atmosphere contaminated with toxic particulates or vapors is unavoidable, employees must wear appropriate respiratory protection equipment in order to protect their health. Furthermore, according to the Canadian Standards Association (CSA) Standard Z94.4-02, all workers who may be required to use respirators must receive rigorous training.
This course in Respiratory Protection teaches employees how to recognize situations where the use of a respirator is necessary, as well as how to choose, use, and maintain the correct equipment.
All workers who are required to use respirators in order to conduct their activity safely are required to undergo respiratory protection training. In addition, this course can be accessed by potential employees who wish to improve their CV prior to being hired, as well as by businesses looking to comply with the latest safety regulations.
The use of respirators is more likely to be required in the following industries:
Energy & Electricity,
Oil & Gas,
Mining,
Construction,
Pharmaceuticals & Healthcare,
Automotive & Manufacturing,
Agriculture & Food,
Waste Management.
Employers are legally mandated to ensure a safe work environment for all employees. As such, it is the responsibility of businesses whose employees are required to use respirators at work to implement appropriate safety training programs.
Meanwhile, the worker must complete the program and retain a set of safety measures that he or she can then apply in the workplace. Furthermore, some job candidates prefer to acquire and complete this safety course on their own in order to improve their CV and increase the chances that they will get hired.
To earn your certificate, you must be able to identify situations where respirators are necessary, as well as to choose the correct equipment. You must also demonstrate that you can properly use such protective gear and that you are aware of the proper procedures for inspecting, cleaning, and storing the latter after use.
Employees who frequently use respirators while at work should renew their training every year. In most situations, the correct use of respirators can prevent a host of illnesses, some of which can prove fatal for the human body. It is therefore essential that you stay in touch with the latest safety protocols and gear.
Employees or businesses who purchase Respiratory Protection often bundle the latter with courses such as Personal Protective Equipment, WHMIS 2015, and/or NORM.
For a detailed list of training programs that may improve your safety at work, please consult our industry-related pages and select your specific job. Additional courses will be recommended to your based on the most common health hazards associated with your line or work.
We have Certified Employees of:
1
Course Overview
In this module you will learn what are Respirators and their types, why Respiratory Protection Training is important, Respirators Limits and Restrictions, the Respiratory Hazards you may face as well as when to use each one of them and how to choose the appropiate protection for your job.
2
Respiratory Protection Procedures
Throughout this module you will learn: How to develop an effective Respiratory Protection Program; What Evaluations and Testing is needed prior to usage of Respirators; How to Clean, Inspect, and Store Respirators; What Equipment and Air Quality Standards Apply.
WHY CHOOSE eSafetyFirst
Hassle-free online training
eSafetyFirst is the convenient, hassle-free online training solution for anyone who needs fast Respiratory Protection training or re-training. This course isn't your average, bland workplace safety course that workers forget.
Each module is engaging, memorable, and fun! Workers can finish the course AND exam the SAME DAY or go at their own pace. Employers benefit from our bulk pricing and fast, simple training.
Employees can get their practice out of the way fast and have fun doing it!
Employer Discounts
1-3 workers

$

36.95/worker

You

save 26%
4-7 workers

$

32.95/worker

You

save 34%
8-12 workers

$

28.95/worker

You

save 42%
13-20 workers

$

24.95/worker

You

save 50%
21-50 workers

$

20.95/worker

You

save 58%
>50 workers
Contact us for Custom Offer
OHS Standards Compliant
Learn at Your Own Pace
Printable Certificates
Industry Recognized
Instant Access
Unlimited Exam Attempts
Dedicated support
100% Employer Approved