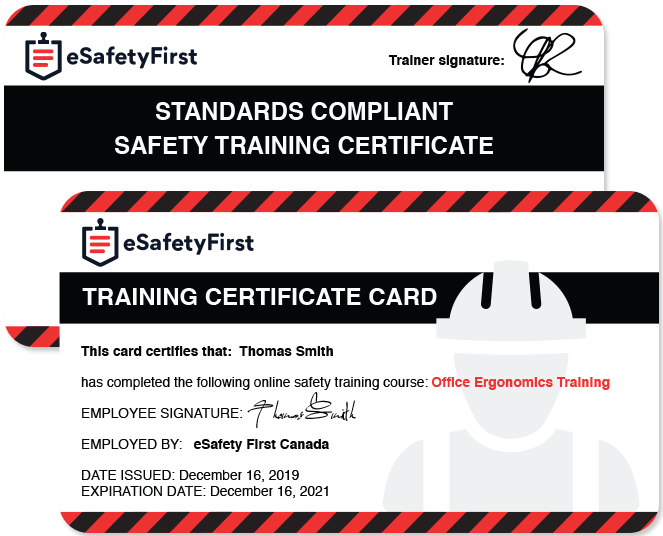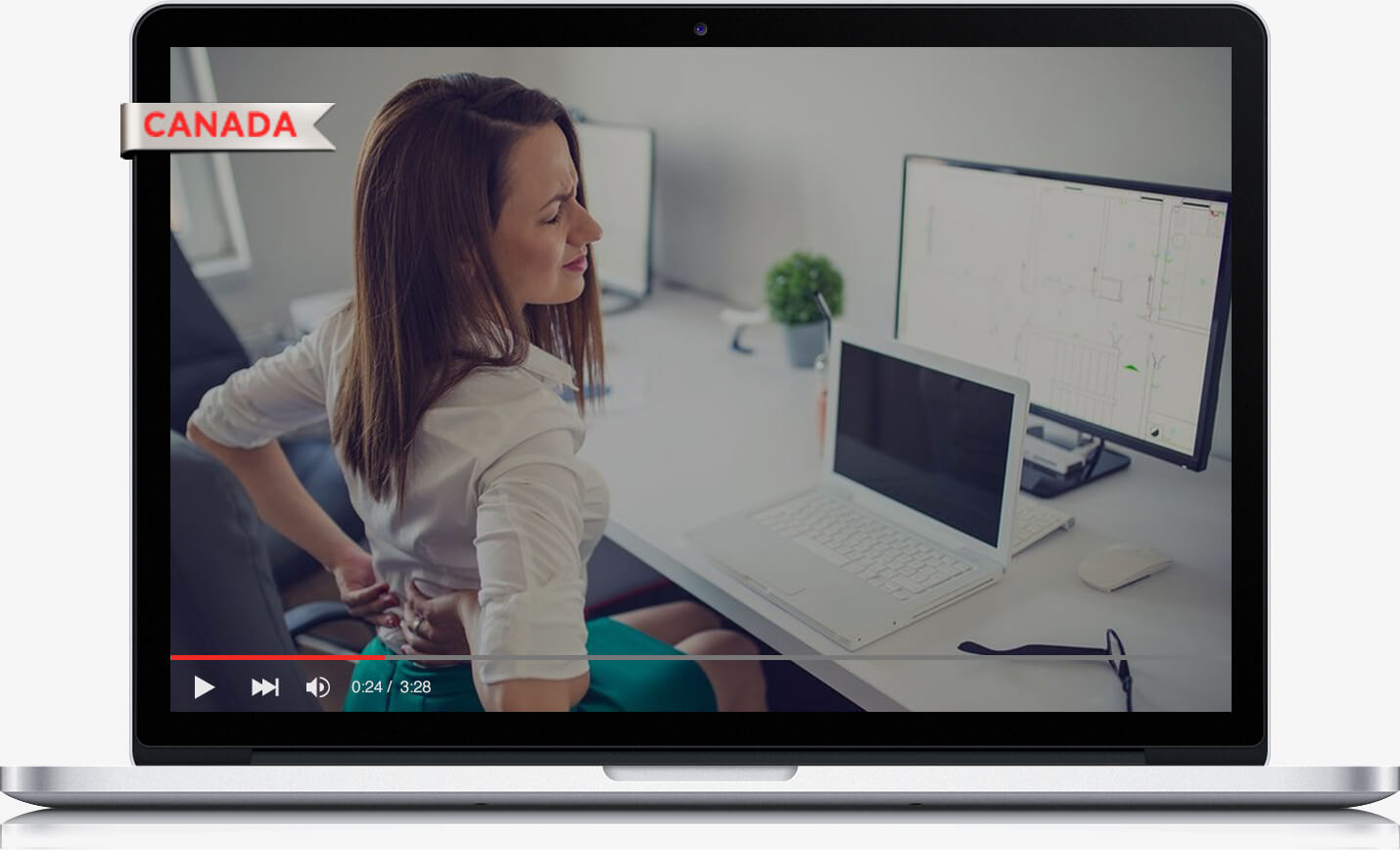 Office Ergonomics Training
Course description
MSD's are the number one type of work-related lost-time claim reported to the Compensation Boards across Canada. This course is designed to teach employees about appropriate work practices and workstation set-ups that will reduce ergonomic discomfort, as well as the health hazards associated with ergonomic distress.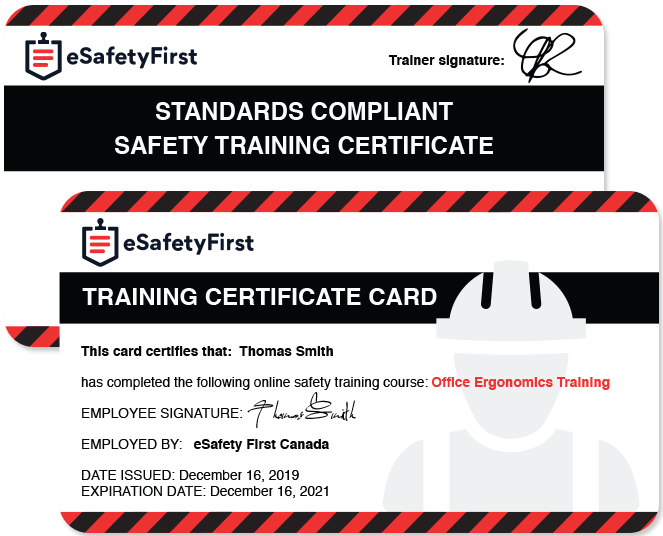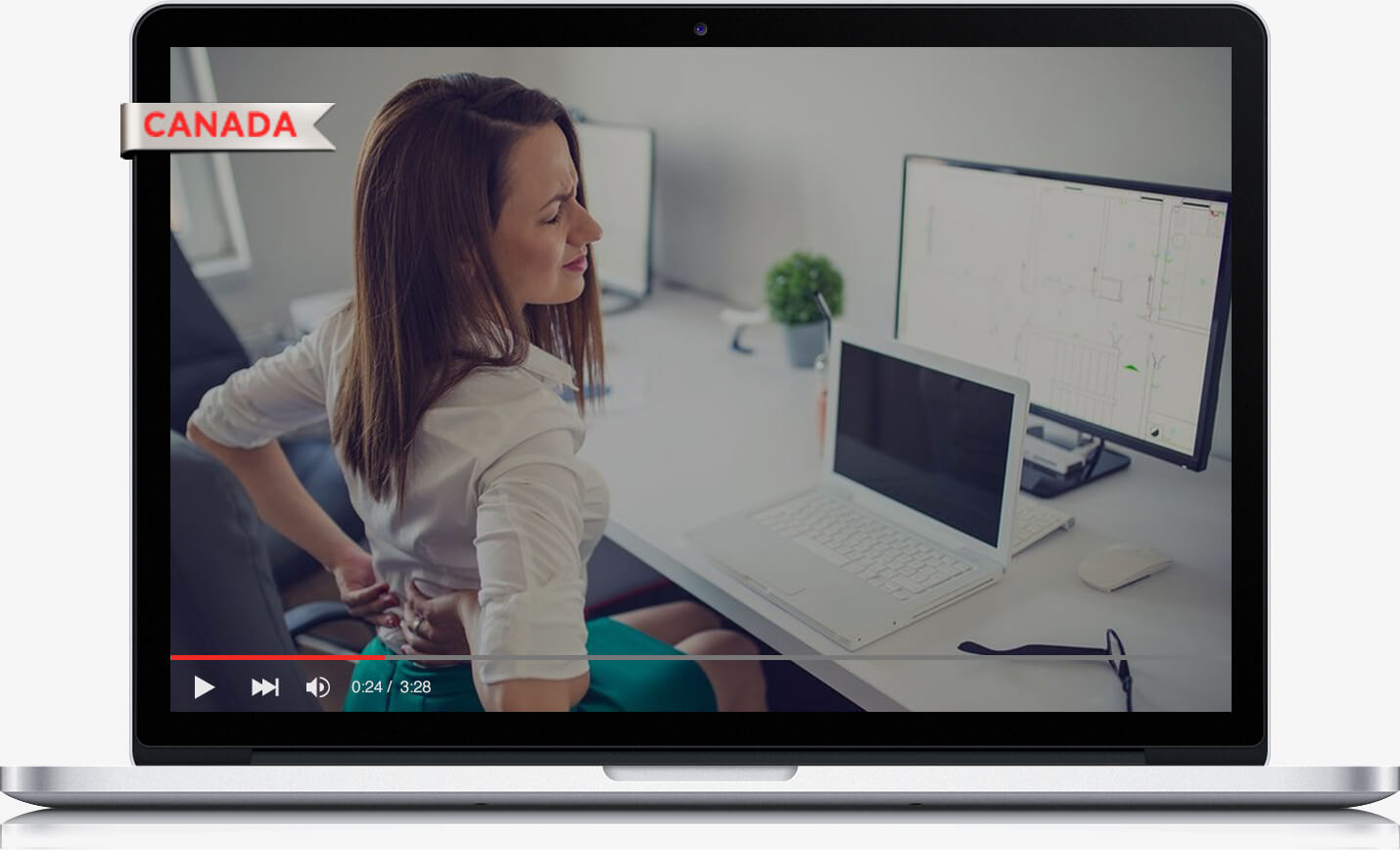 Accepted Across Entire Canada
Alberta
British Columbia
Manitoba
New Brunswick
Yukon
Nova Scotia
Ontario
Prince Edward Island
Quebec
Saskatchewan
Northwest Territories
Newfoundland and Labrador

Ergonomics is a field of study that combines numerous disciplines. Among its chief concerns are the design of products or environments to increase our safety and comfort. In an office setting, ergonomics mainly refers to workstation design, but also to nurturing physiologically sound habits.
Office Ergonomics training aims to help employees be more comfortable throughout their work environment, reduce stress associated with repetitive tasks or straining positions, and take effective steps to prevent the onset of MSDs.
Office Ergonomics is a course intended for individuals who spend most of their work time at a workstation. The training must be completed by any Canadian employee who works at a desk, as well as by potential candidates who are up for a desk job and are looking to enhance their resumes.
Some industries are more likely to require Office Ergonomics training than others. These include:
Office Work
Pharmaceuticals and Healthcare
Security
Hospitality and Tourism
Education & Research
Logistics (Shipping and Warehousing)
Due to the serious health concerns associated with poor Office Ergonomics, the Canadian Labor Code stipulates that work environments and tools must abide by strict ergonomic standards. The OHS demands that employers implement regular Office Ergonomics Training for their workers.
At the same time, it is the obligation of the employee to see that their training is completed and that they use what they've learned on a day-to-day basis. Many candidates for office-related positions often undergo this training as a way to complete their CVs before an interview.
To successfully complete the Office Ergonomics course, workers will have to know important risk factors related to workstation design and posture. They must be aware of optimal ergonomics procedures and be able to identify any potential MSDs they expose themselves to if these best practices are not implemented on a routine basis.
Workers who are limited to the confinements of an office desk should re-take this course every year. The market sees a constant in-flow of better products, tools, and work stations, but upgrading an entire office is a costly endeavor that does not happen as often as it should.
Workers usually purchase Office Ergonomics alongside Workplace Harassment, Electrical Safety and Awareness, and Conflict Resolution.
If you're looking for a comprehensive list of safety courses associated with a line of work, you can access our industry-related pages where they are grouped according to specific jobs. The training programs recommended there are intended to help workers become more aware of the hazards related to specific work environments.
We have Certified Employees of:
1
Module 1
In this module you will learn about the Importance of Office Ergonomics, the General Principles of Workspace Layout that must be adhered to, the Injuries related to Poor Ergonomic Conditioning as well as the Canada Labour Code and Federal Legislation in regards to Office Ergonomics.
2
Module 2
After completion of this module you should be able to Name the Major Work-Related Risk Factors, Acknowledge Personal or Individual Risk Factors, Understand the Importance of Workstation Layout, Name Space Requirements for Office Work.
WHY CHOOSE eSafetyFirst
Hassle-free online training
eSafetyFirst is the convenient, hassle-free online training solution for anyone who needs fast Office Ergonomics training or re-training. This course isn't your average, bland workplace safety course that workers forget.
Each module is engaging, memorable, and fun! Workers can finish the course AND exam the SAME DAY or go at their own pace. Employers benefit from our bulk pricing and fast, simple training.
Employees can get their practice out of the way fast and have fun doing it!
Employer Discounts
1-3 workers

$

36.95/worker

You

save 26%
4-7 workers

$

32.95/worker

You

save 34%
8-12 workers

$

28.95/worker

You

save 42%
13-20 workers

$

24.95/worker

You

save 50%
21-50 workers

$

20.95/worker

You

save 58%
>50 workers
Contact us for Custom Offer
OHS Standards Compliant
Learn at Your Own Pace
Printable Certificates
Industry Recognized
Instant Access
Unlimited Exam Attempts
Dedicated support
100% Employer Approved