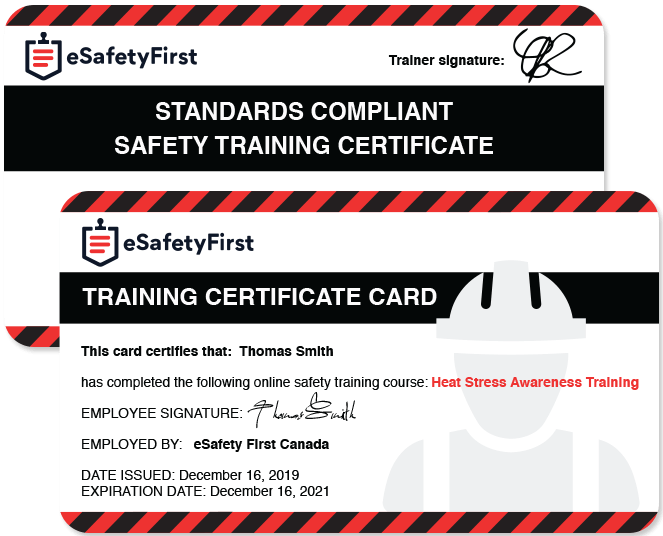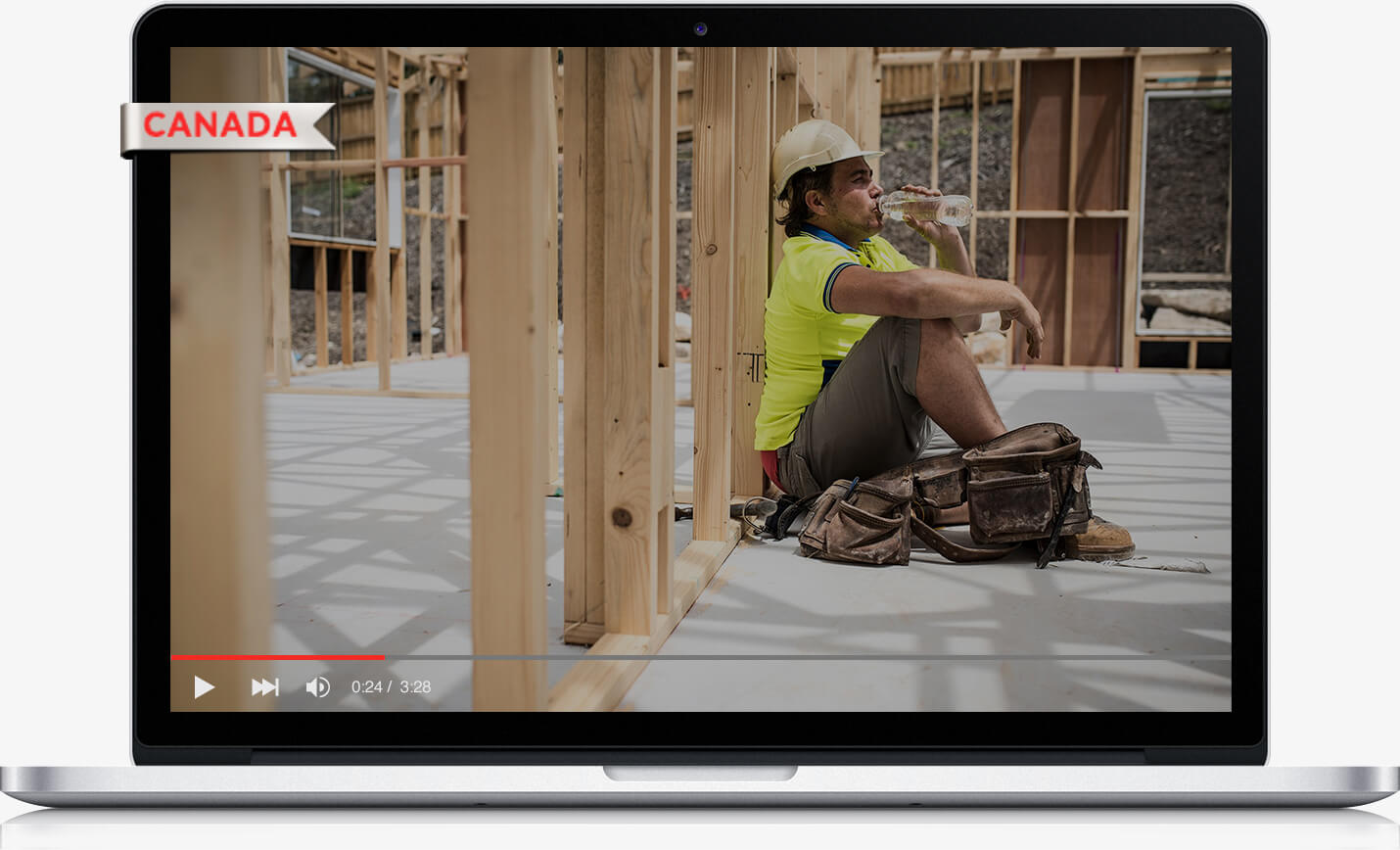 Heat Stress Awareness Training
Course description
Heat Stress Prevention course includes information on environmental conditions that generate heat-related illnesses, potential health hazards associated with the latter, as well as prevention and response strategies.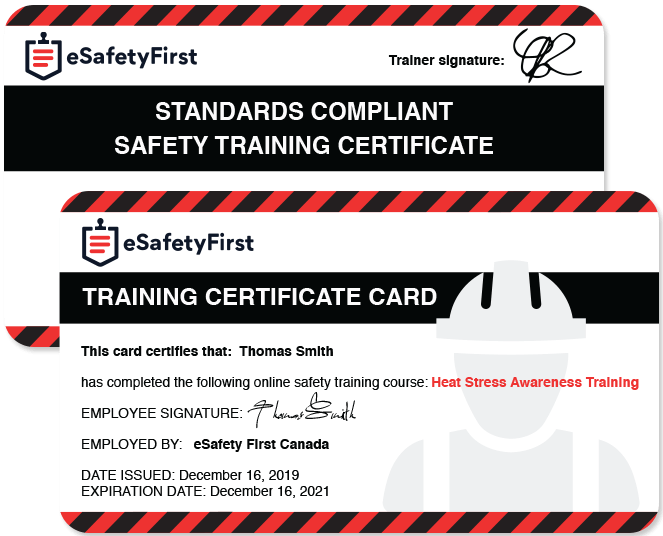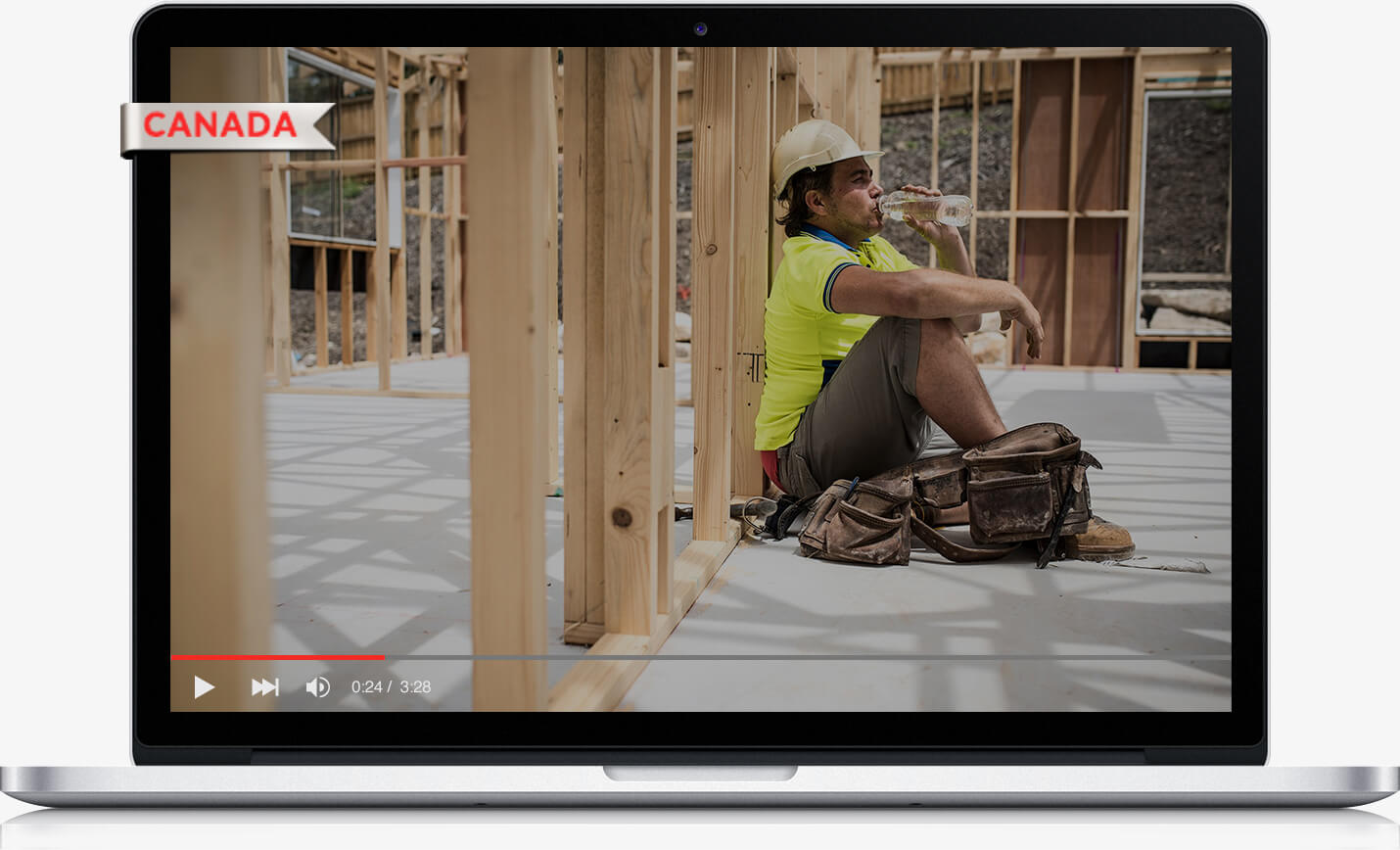 Accepted Across Entire Canada
Alberta
British Columbia
Manitoba
New Brunswick
Yukon
Nova Scotia
Ontario
Prince Edward Island
Quebec
Saskatchewan
Northwest Territories
Newfoundland and Labrador

Heat stress can become a life-threatening problem for employees who work around elevated temperatures and/or humidity for extended periods of time. If left unresolved, heat stress can lead to serious health conditions and even death.
Employees who frequently work in direct sunlight or inside indoor spaces where the temperature and/or humidity is high must receive training in heat stress prevention so that they may recognize heat-related distress and alleviate in due time.
This course in heat stress prevention is addressed, first and foremost, to all employees who are exposed to elevated temperatures and/or humidity for extended periods of time while at work. Furthermore, potential job candidates who wish to complete their CVs prior to employment can also benefit from this training program.
Industries where heat stress prevention training is frequently required include:
Oil & Gas
Seismic
Logging & Forestry
Mining
Construction
Automotive & Manufacturing
Agriculture & Food
Since all employers are required to create a safe work environment for their employees, it falls into their responsibility to implement heat stress prevention training, especially in those industries where heat stress is a frequent risk.
Employees, on the other hand, are required to undergo and complete the training program, as well as make use of the strategies they learn in order to maintain their safety at work. What's more, some job candidates prefer to independently acquire and complete the program to improve their CV and increase their odds of being hired.
To obtain this certificate, you must demonstrate a basic understanding of heat stress and the environmental conditions that can lead to it. In addition, you should be able to identify several illnesses that can result from prolonged exposure to heat, as well as present a set of safety precautions designed to help prevent them.
It is recommended that employees who are at increased risk of heat stress should complete this course every year. When left unchecked, heat stress can have devastating consequences, which is why it is important to be aware of the latest safety standards.
Heat stress prevention is often paired with Fire Safety, Personal Protective Equipment, and Respiratory Protection.
To discover more safety courses that are recommended for your job, please access our industry-related pages and select your specific line of work. Our suggested packages cover the most pressing health and safety hazards you might encounter in the workplace.
We have Certified Employees of:
1
Module 1
In this module you will learn what Heat Stress is, what is the Heat Index, how Hot Weather Conditions can affect your body and how does your body adjust as well as the Heat Related Hazards & Accidents.
2
Module 2
After completion of this module you should be able to: Name all types of Heat Hazards, Understand Warning Signs of Heat Hazards, Know how to react when encountering Heat Hazards, Acknowledge the need of Heat Stress Prevention.
WHY CHOOSE eSafetyFirst
Hassle-free online training
eSafetyFirst is the convenient, hassle-free online training solution for anyone who needs fast Heat Stress training or re-training. This course isn't your average, bland workplace safety course that workers forget.
Each module is engaging, memorable, and fun! Workers can finish the course AND exam the SAME DAY or go at their own pace. Employers benefit from our bulk pricing and fast, simple training.
Employees can get their practice out of the way fast and have fun doing it!
Employer Discounts
1-3 workers

$

26.95/worker

You

save 23%
4-7 workers

$

23.95/worker

You

save 32%
8-12 workers

$

20.95/worker

You

save 40%
13-20 workers

$

17.95/worker

You

save 49%
21-50 workers

$

14.95/worker

You

save 57%
>50 workers
Contact us for Custom Offer
OHS Standards Compliant
Learn at Your Own Pace
Printable Certificates
Industry Recognized
Instant Access
Unlimited Exam Attempts
Dedicated support
100% Employer Approved