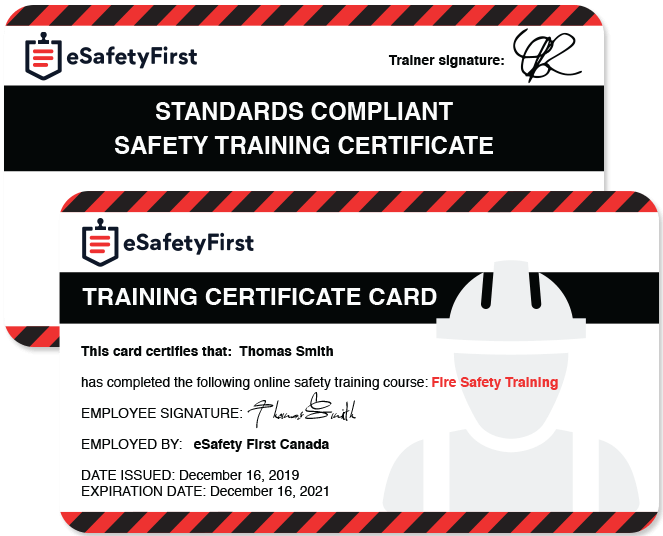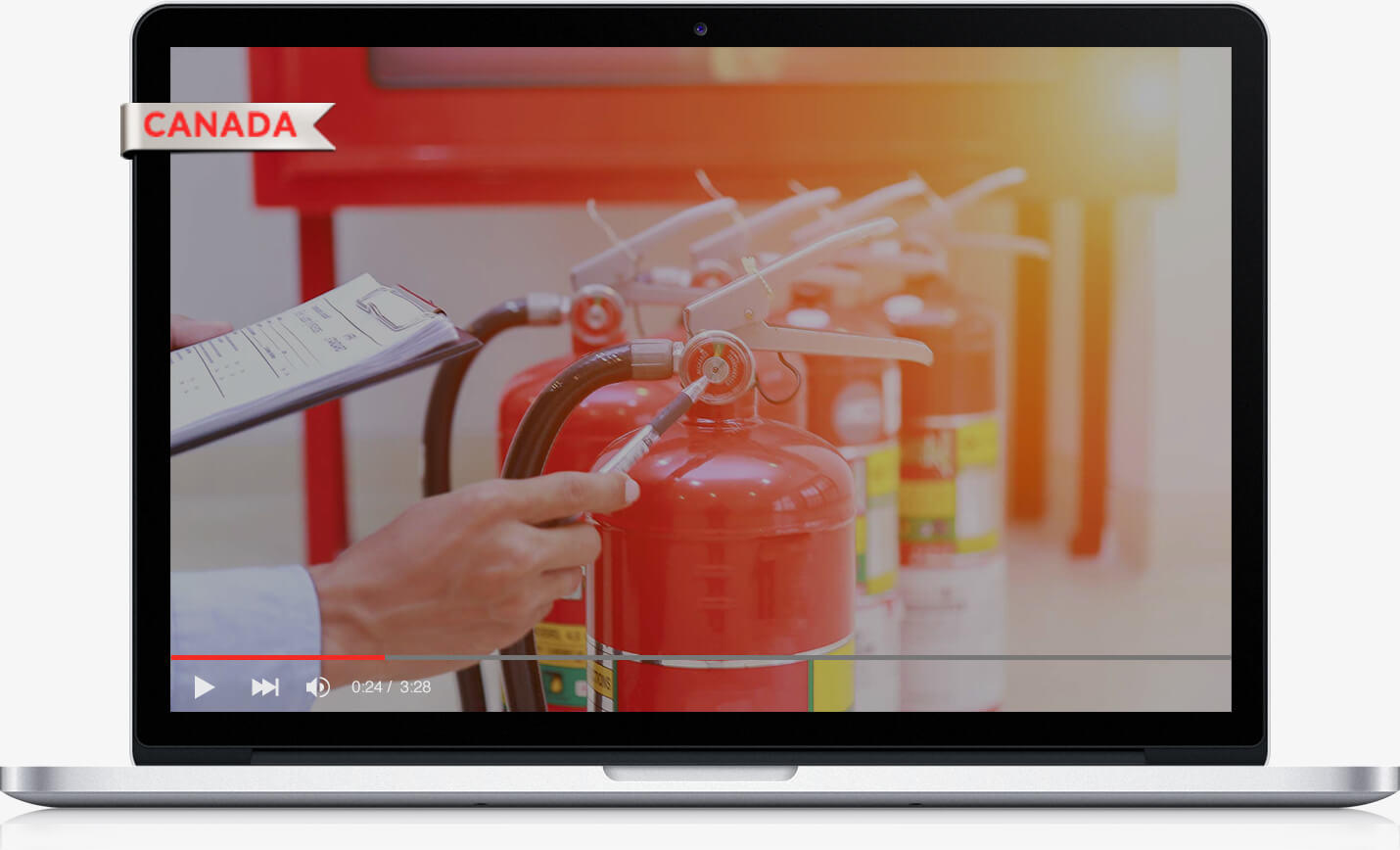 Course description
The risk of fire is present in all work environments, regardless of industry. This safety course addresses both natural and man-made emergencies by teaching employers and employees how to prevent, manage, and evacuate a fire.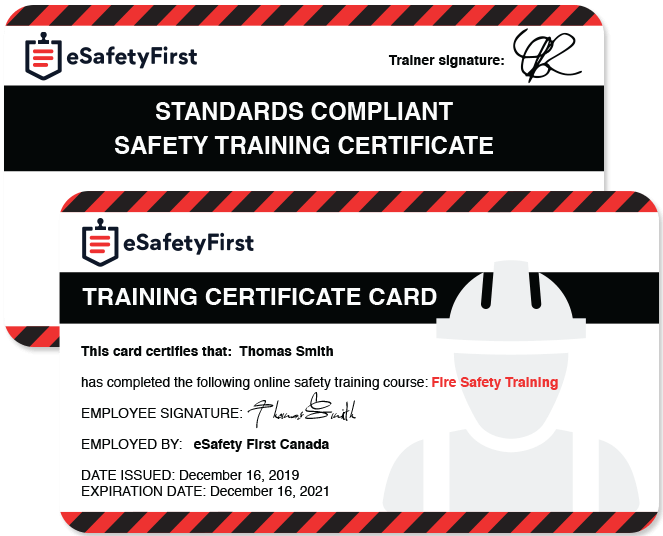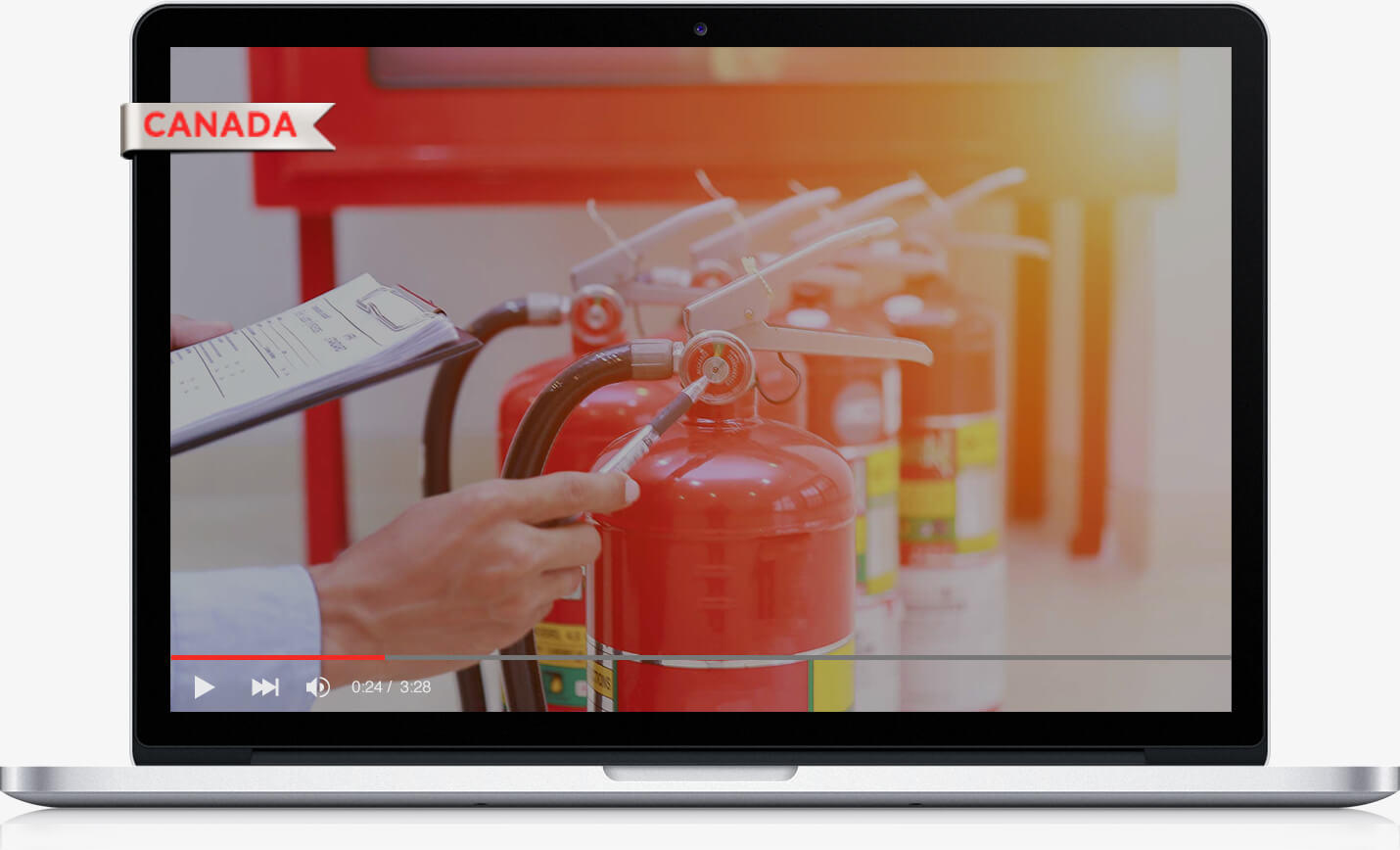 Accepted Across Entire Canada
Alberta
British Columbia
Manitoba
New Brunswick
Yukon
Nova Scotia
Ontario
Prince Edward Island
Quebec
Saskatchewan
Northwest Territories
Newfoundland and Labrador

Establishments must be equipped with fire extinguishers to comply with safety regulations, but this is not a complete solution in terms of fire safety. Each organization must promote an internal set of rules and protocols to help avoid fires and, in case of emergency, to properly manage them. In addition, employees must receive rigorous training in fire prevention and evacuation in order to guarantee their safety and that of their colleagues.
In Canada, fire safety is ensured through the Fire Code regulation, under the Fire Protection and Prevention Act of 1997.
No matter the industry or work environment, all employees and employers should benefit from fire safety training. As such, this course is addressed to all existing workers, potential job candidates, as well as companies that seek to comply with current safety regulations.
Nevertheless, there are some industries where the risk of fire is more prominent and the requirement for fire safety training is consequently stricter. These include:
Oil & Gas,
Logging & Forestry,
Mining,
Construction,
Automotive & Manufacturing,
Agriculture & Food,
Waste Management.
According to the Government of Canada's Occupational Health and Safety Act, employers are required to ensure a safe working environment for their employees. To this end, they are compelled not only to equip any establishment with fire extinguishers, but also to undergo fire safety training and implement it for all employees.
Meanwhile, employees are required to complete the training program and apply the strategies they learn in the workplace.
To successfully complete the program, you must be able to demonstrate awareness of the fire triangle and different classes of fire, as well as basic knowledge about how to use and maintain a fire extinguisher. In addition, you will be asked to describe typical sources of fire for prevention purposes, a number of prevention strategies, and emergency evacuation procedures.
Employees who work in environments where the risk of fire is high should re-take this course on a yearly basis. Being aware of how to properly prevent or evacuate a fire can save your life and/or that of a colleague in an emergency.
This course on Fire Safety is often purchased together with Fire Extinguisher training, Electrical Safety and Awareness, as well as WHMIS 2015.
For course recommendations that are tailored to your line of work, please access our industry-related pages and select a specific job. The packages described there include safety training programs designed to prepare you for all hazards associated with your work environment.
We have Certified Employees of:
1
Course Overview
In this module you will learn why Fire Safety is important at work, the fire classes and types of fire extinguishers.
2
Fire Safety Procedures and Prevention
Throughout this module you will learn about: How to Use a Fire Extinguisher, When to and not to Fight a Fire, Fire Extinguisher Inspection and Fire Prevention and Safety Procedures.
WHY CHOOSE eSafetyFirst
Hassle-free online training
eSafetyFirst is the convenient, hassle-free online training solution for anyone who needs fast Fire Safety training or re-training. This course isn't your average, bland workplace safety course that workers forget.
Each module is engaging, memorable, and fun! Workers can finish the course AND exam the SAME DAY or go at their own pace. Employers benefit from our bulk pricing and fast, simple training.
Employees can get their practice out of the way fast and have fun doing it!
Employer Discounts
1-3 workers

$

26.95/worker

You

save 23%
4-7 workers

$

23.95/worker

You

save 32%
8-12 workers

$

20.95/worker

You

save 40%
13-20 workers

$

17.95/worker

You

save 49%
21-50 workers

$

14.95/worker

You

save 57%
>50 workers
Contact us for Custom Offer
OHS Standards Compliant
Learn at Your Own Pace
Printable Certificates
Industry Recognized
Instant Access
Unlimited Exam Attempts
Dedicated support
100% Employer Approved