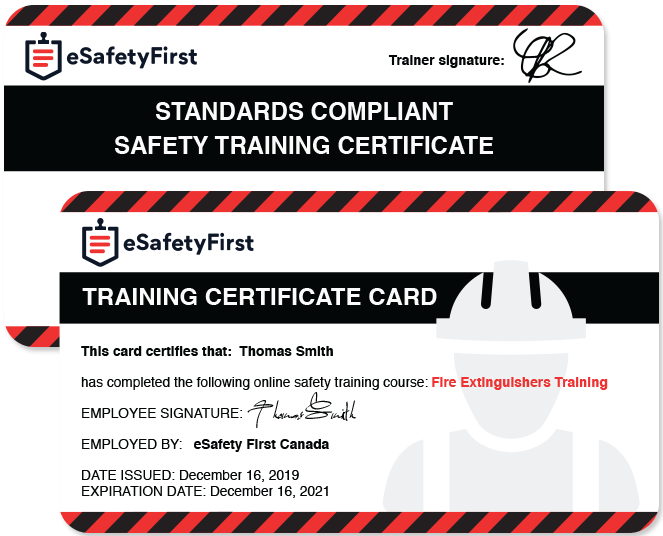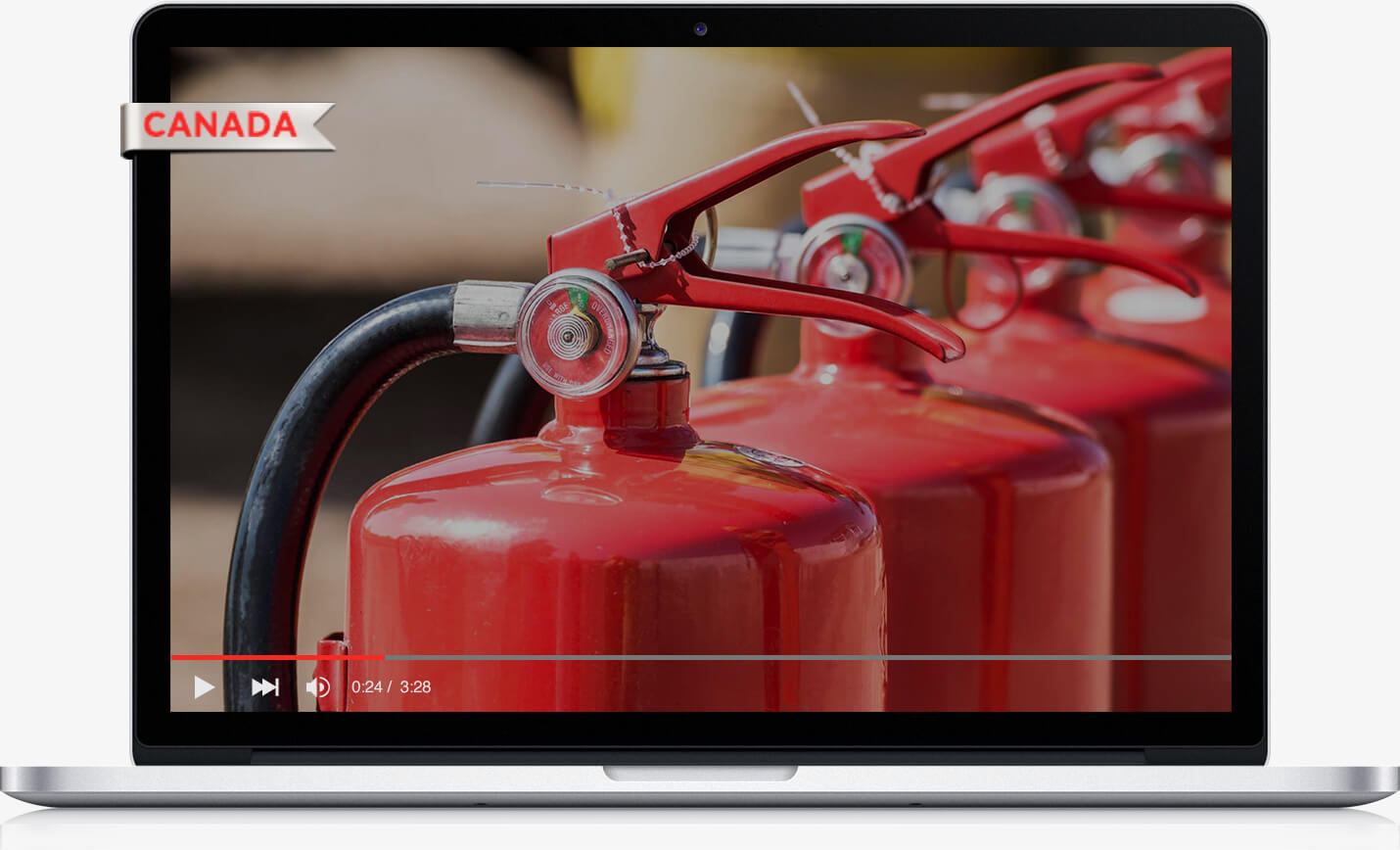 Fire Extinguishers Training
Course description
Employees who work in environments with an elevated fire hazard risk must know how to safely operate the different types of fire extinguishers. This Fire Extinguisher course aims to familiarize employees with each of the 8 classes of extinguisher agents and their intended use.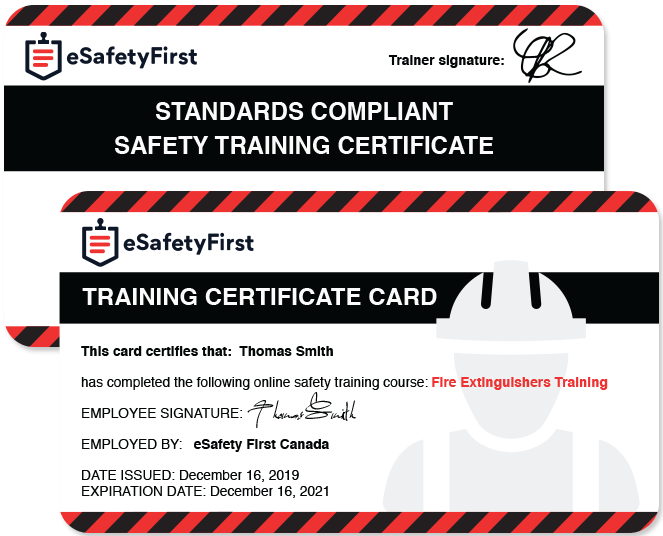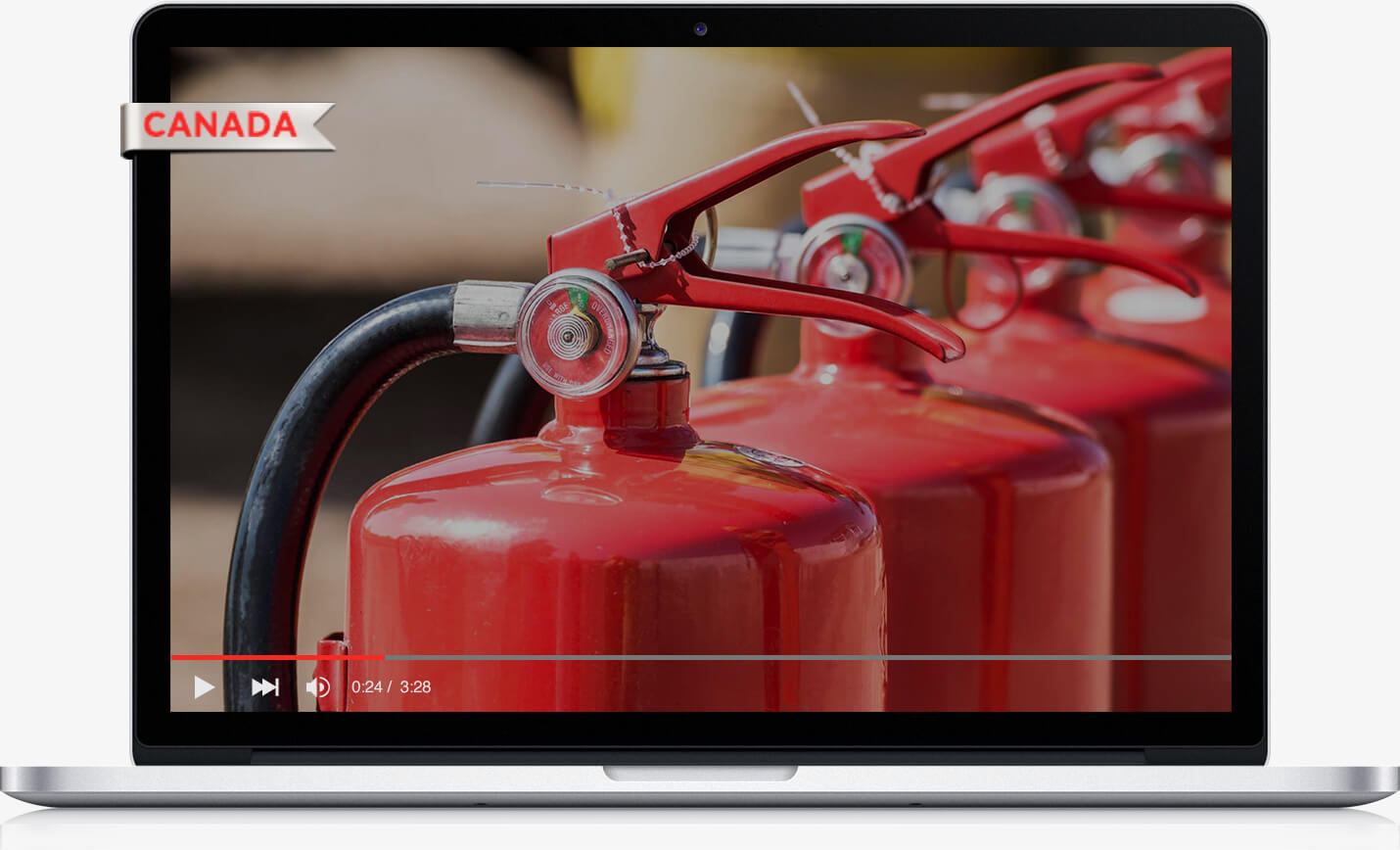 Accepted Across Entire Canada
Alberta
British Columbia
Manitoba
New Brunswick
Yukon
Nova Scotia
Ontario
Prince Edward Island
Quebec
Saskatchewan
Northwest Territories
Newfoundland and Labrador

National legislation states that, wherever there is a fire extinguisher, employees must also be provided with sufficient training in terms of how to use it. Fires are not as straightforward as people initially think – many of them require specialized protective agents and/or procedures to be put out.
The Fire Extinguisher program is designed to help employees understand which type of extinguisher is compatible with a particular category of fire. Furthermore, it provides students with information on the appropriate use and maintenance of these protection devices.
Any worker within the Canadian jurisdiction who is legally employed must undergo fire protection and emergency equipment training. The course is aimed at potential candidates looking to be hired, current professionals, and businesses that wish to comply with the latest safety regulations.
Although this Fire Extinguisher training program should be a priority for all employees, workers in the following industries are more likely to be asked to obtain this certification:
Energy and Electricity.
Oil and Gas.
Lumber/Forestry.
Mining.
Automotive and Manufacturing.
Education and Research.
Agriculture and Food.
The Canadian government clearly states that it is the employer who is responsible for creating a safe working environment for their workers. As such, the former is required to ensure that all employees benefit from adequate Fire Extinguisher training.
At the same time, workers themselves are obligated to complete these training programs and apply what they have learned. Many future employees will often complete these certifications before getting hired in an effort to improve their resume and hiring prospects.
To complete the Fire Extinguisher course, employees must be able to associate each type of fire to the appropriate extinguisher agent. In case of an emergency, they must be aware of the rules for fighting fires, as well as of the situations when they should attempt to extinguish the outbreak using the correct handling technique.
Fire Extinguisher safety material should be reviewed within a year's time from the date of the previous completion. Being able to act in a safe and efficient manner given a fire emergency is in the best interest of the worker, as well as of their employer.
Fire Extinguisher programs are commonly purchased together with Fire Safety, Electrical Safety and Awareness, Personal Protective Equipment, and Lockout/Tagout.
To obtain access to a list of safety programs associated with a specific job, please visit our industry-related pages and navigate to your line of work. The safety courses are grouped according to the most common hazards associated with each work environment.
We have Certified Employees of:
1
Module Overview
In this module you will learn why Fire Extinguishers Training is important, how a fire works, the 5 different classes of fire as well as the types of Fire Extinguishers and for which class of fire they are used.
2
Module Overview
Throughout this module you will learn about: How to Use a Fire Extinguisher, When to and not to Fight a Fire, Fire Extinguisher Inspection & Fire Extinguisher Maintenance.
WHY CHOOSE eSafetyFirst
Hassle-free online training
eSafetyFirst is the convenient, hassle-free online training solution for anyone who needs fast Fire Extinguishers training or re-training. This course isn't your average, bland workplace safety course that workers forget.
Each module is engaging, memorable, and fun! Workers can finish the course AND exam the SAME DAY or go at their own pace. Employers benefit from our bulk pricing and fast, simple training.
Employees can get their practice out of the way fast and have fun doing it!
Employer Discounts
1-3 workers

$

26.95/worker

You

save 23%
4-7 workers

$

23.95/worker

You

save 32%
8-12 workers

$

20.95/worker

You

save 40%
13-20 workers

$

17.95/worker

You

save 49%
21-50 workers

$

14.95/worker

You

save 57%
>50 workers
Contact us for Custom Offer
OHS Standards Compliant
Learn at Your Own Pace
Printable Certificates
Industry Recognized
Instant Access
Unlimited Exam Attempts
Dedicated support
100% Employer Approved