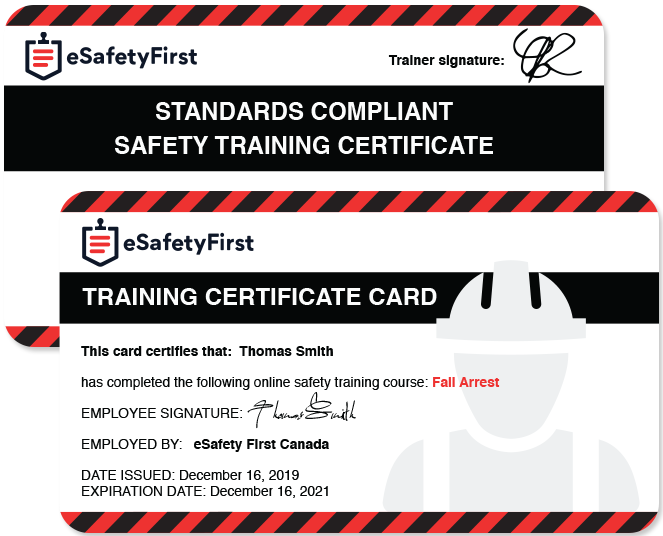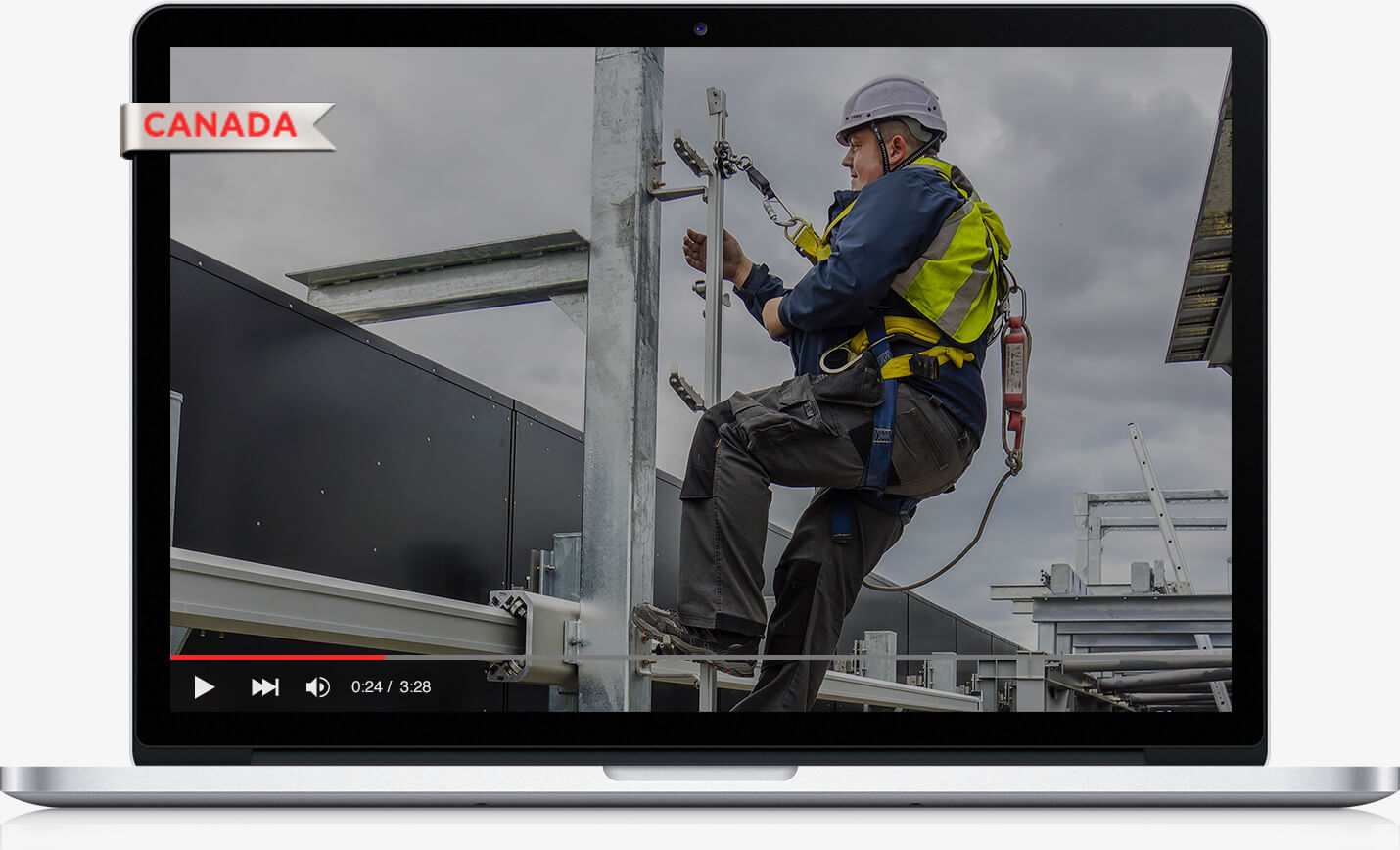 Fall Arrest Online Certification
Course description
People working at heights of more than 3 meters (10 feet) risk serious injuries in case of a slip, which is why Fall Arrest training is mandatory to ensure their safety. This course familiarizes workers with some of the main protection systems against falls, as well as how this gear works and what restrictions it imposes upon the user.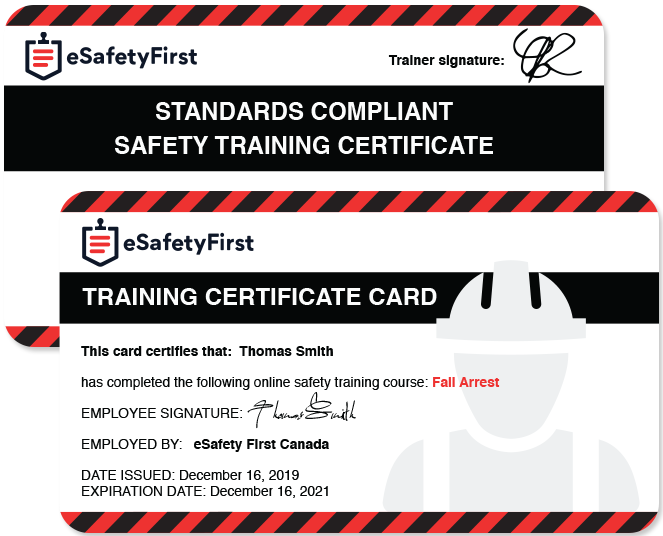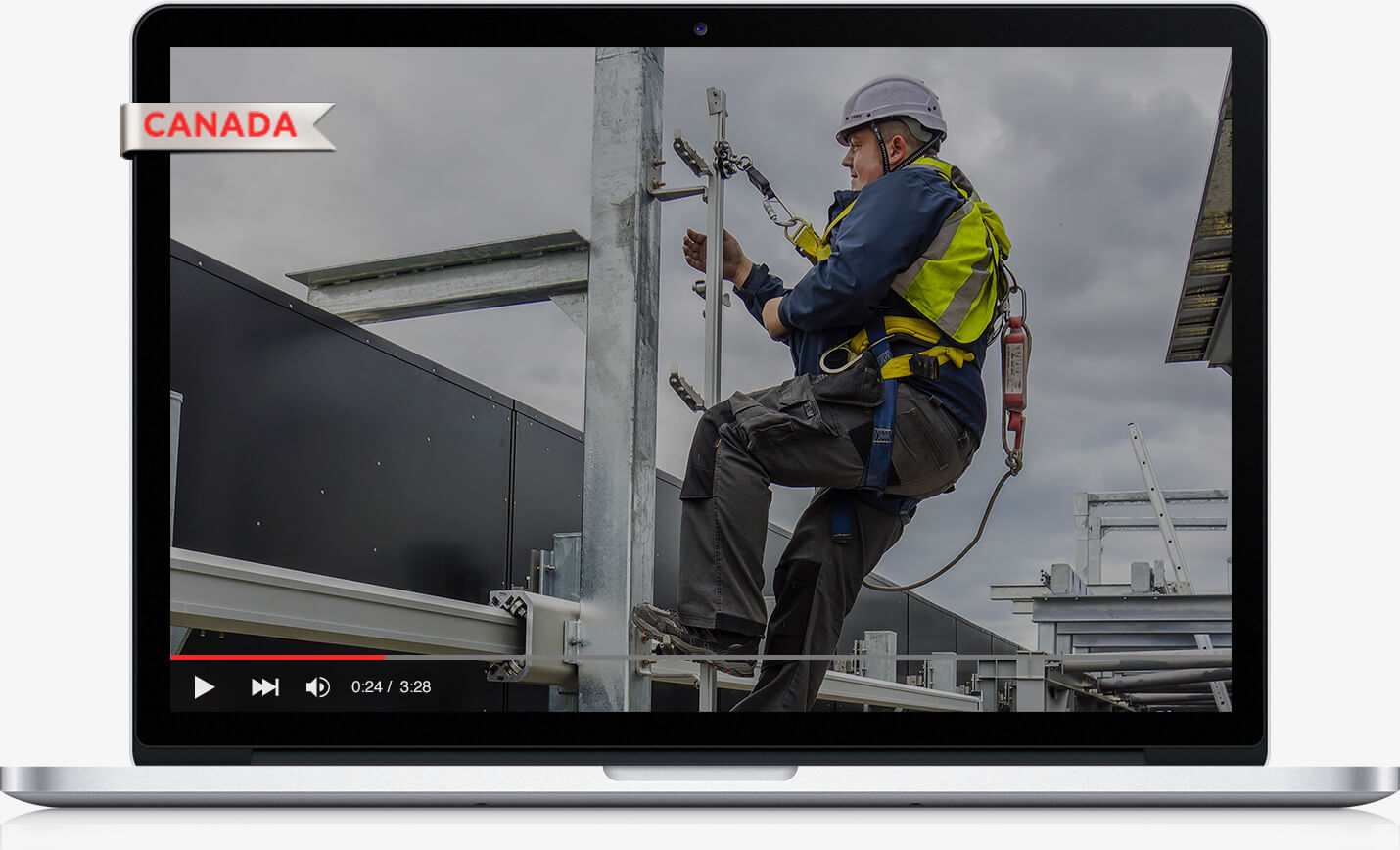 Accepted Across Entire Canada
Alberta
British Columbia
Manitoba
New Brunswick
Yukon
Nova Scotia
Prince Edward Island
Quebec
Saskatchewan
Northwest Territories

Statistics indicate that, regardless of the height in question, working at any distance upwards 6 feet from the ground poses great danger for the worker. Fall Arrest training is designed to help employees understand the serious risk of injury when working at heights and it covers all aspects of using fall protection equipment, such as harnesses or ladders, in order to minimize or completely avoid accidents from heights.
The Fall Arrest certification is a legal requirement for workers who must conduct their activities at heights that exceed 10 feet. Many job candidates take it upon themselves to complete the certification before an interview, as a way to increase their odds of getting hired. Meanwhile, current employees must regularly undergo this training program to maintain their safety in the workplace.
The following industries are more likely to require Fall Arrest certification from employees:
Energy & Electricity.
Oil & Gas.
Lumber/Forestry.
Seismic.
Mining.
Construction.
Ontario employees should note that any construction-related work requires the regional "Working at Heights" (WAH) certification instead. Newfoundland and Labrador employees must undergo a minimum 2-day WorkplaceNL-approved "hands-on" training course.
Across the jurisdiction of Canada, it falls upon the employer to ensure a safe work environment for their employees. As such, the former is responsible for the implementation of any safety training that might be required.
At the same time, it is the worker's obligation to complete the courses and apply what they have learned throughout their work experience. Many job candidates will often complete Fall Arrest before their interview, as a way to enhance their resume and hiring prospects.
As part of the Fall Arrest training program, employees will first be acquainted with frequent fall hazards that may occur when working at heights. They will then learn how the risk of injury can be eliminated through appropriate use of personal protective equipment and fall protection systems. Lastly, students are made aware of contingency plans surrounding any fall-related injury.
Industry standards recommend that employees who work at heights should undergo Fall Arrest training once per year. The regular completion of the course ensures that legal safety standards are abided, while also decreasing the risk of accidents taking place.
Businesses and workers who acquire Fall Arrest also purchase Personal Protective Equipment, Electrical Safety and Awareness, Aerial Lifts, and Lockout/Tagout.
To browse a comprehensive list of safety courses designed for a particular job, please visit our industry-related pages, where safety programs are grouped by line of work.
We have Certified Employees of:
1
Course Overview
This course is designed to provide the necessary knowledge in order to minimize fall hazards and protect workers against serious injury.
2
Introduction to Hazard Elimination
Learn how to assess and identify any existing and potential hazards in the work environment.
3
Protection Course
This module teaches you about the available safety options and how to properly use them.
4
Fall Planning
Learn about the Fall Clearance Definition and Formula as well as Rescue Planing and Objectives
WHY CHOOSE eSafetyFirst
Hassle-free online training
eSafetyFirst is the convenient, hassle-free online training solution for anyone who needs fast Fall Arrest training or re-training. This course isn't your average, bland workplace safety course that workers forget.
Each module is engaging, memorable, and fun! Workers can finish the course AND exam the SAME DAY or go at their own pace. Employers benefit from our bulk pricing and fast, simple training.
Employees can get their practice out of the way fast and have fun doing it!
Employer Discounts
1-3 workers

$

54.95/worker

You

save 31%
4-7 workers

$

51.95/worker

You

save 35%
8-12 workers

$

48.95/worker

You

save 39%
13-20 workers

$

45.95/worker

You

save 43%
21-50 workers

$

41.95/worker

You

save 48%
>50 workers
Contact us for Custom Offer
OHS Standards Compliant
Learn at Your Own Pace
Printable Certificates
Industry Recognized
Instant Access
Unlimited Exam Attempts
Dedicated support
100% Employer Approved