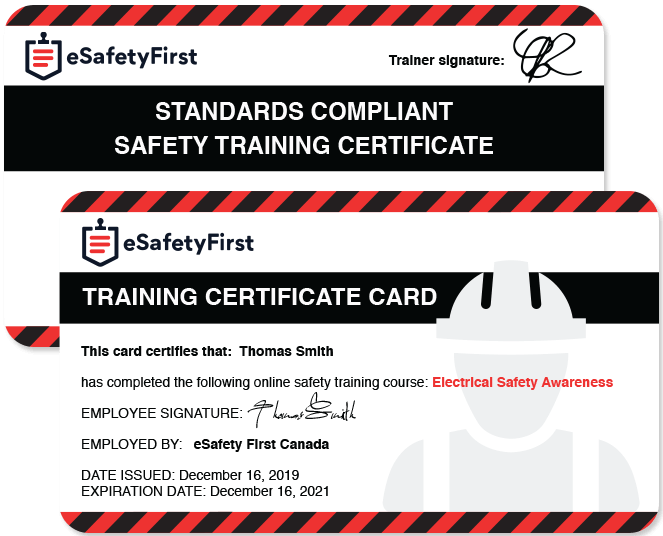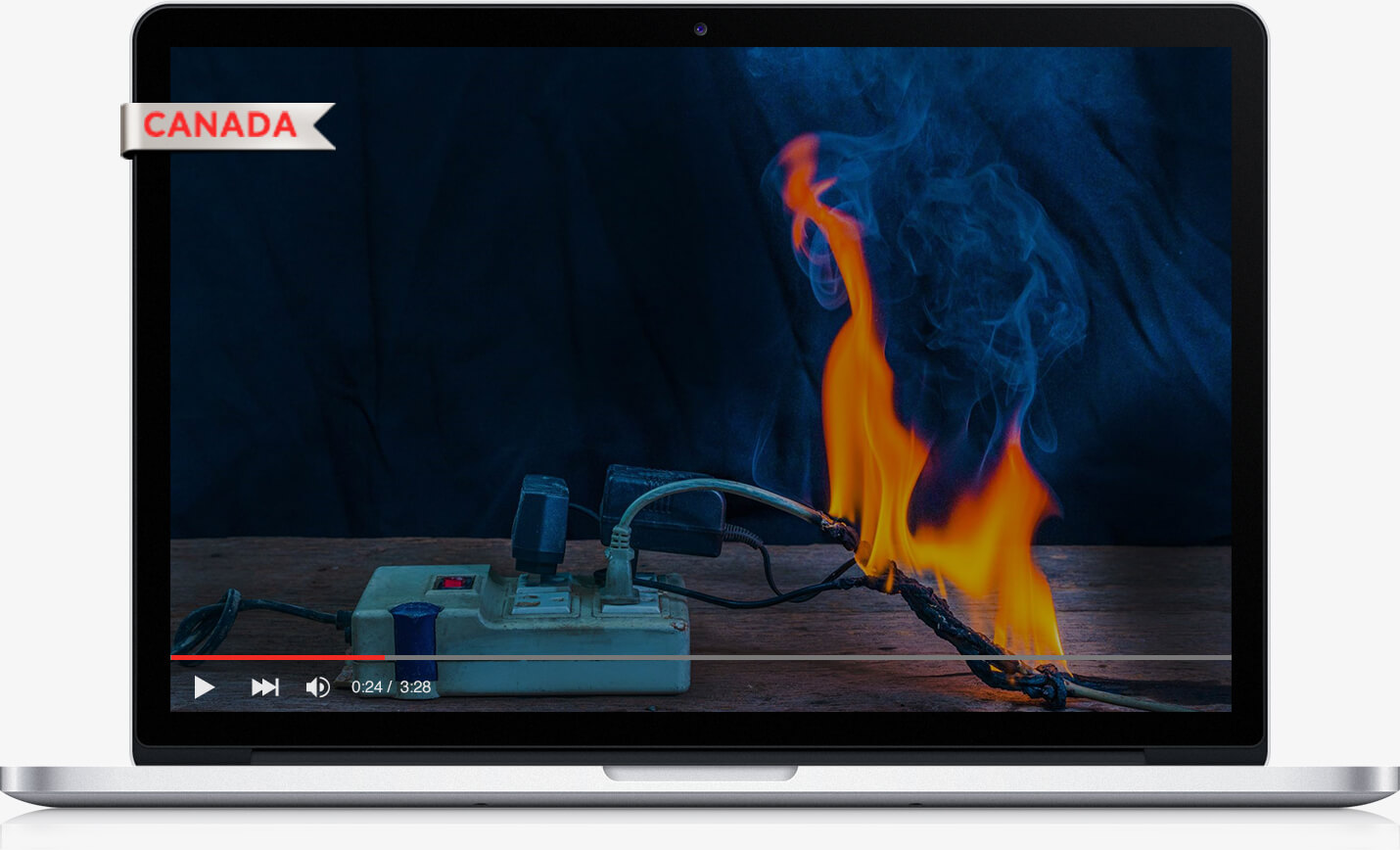 Electrical Safety Awareness
Course description
As more technologies enter the workplace, the risk of electrical hazards increases across all industries. This Electrical Safety and Awareness course is addressed to non-electrical employees who do not work directly with electricity, but may suffer electricity-related injuries due to human error.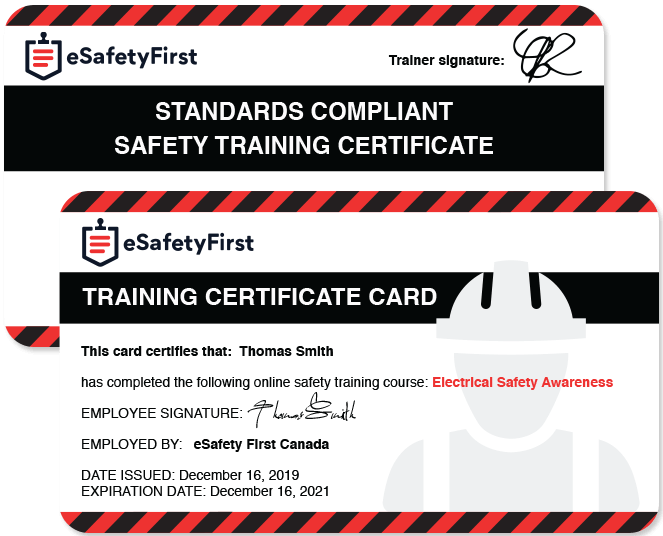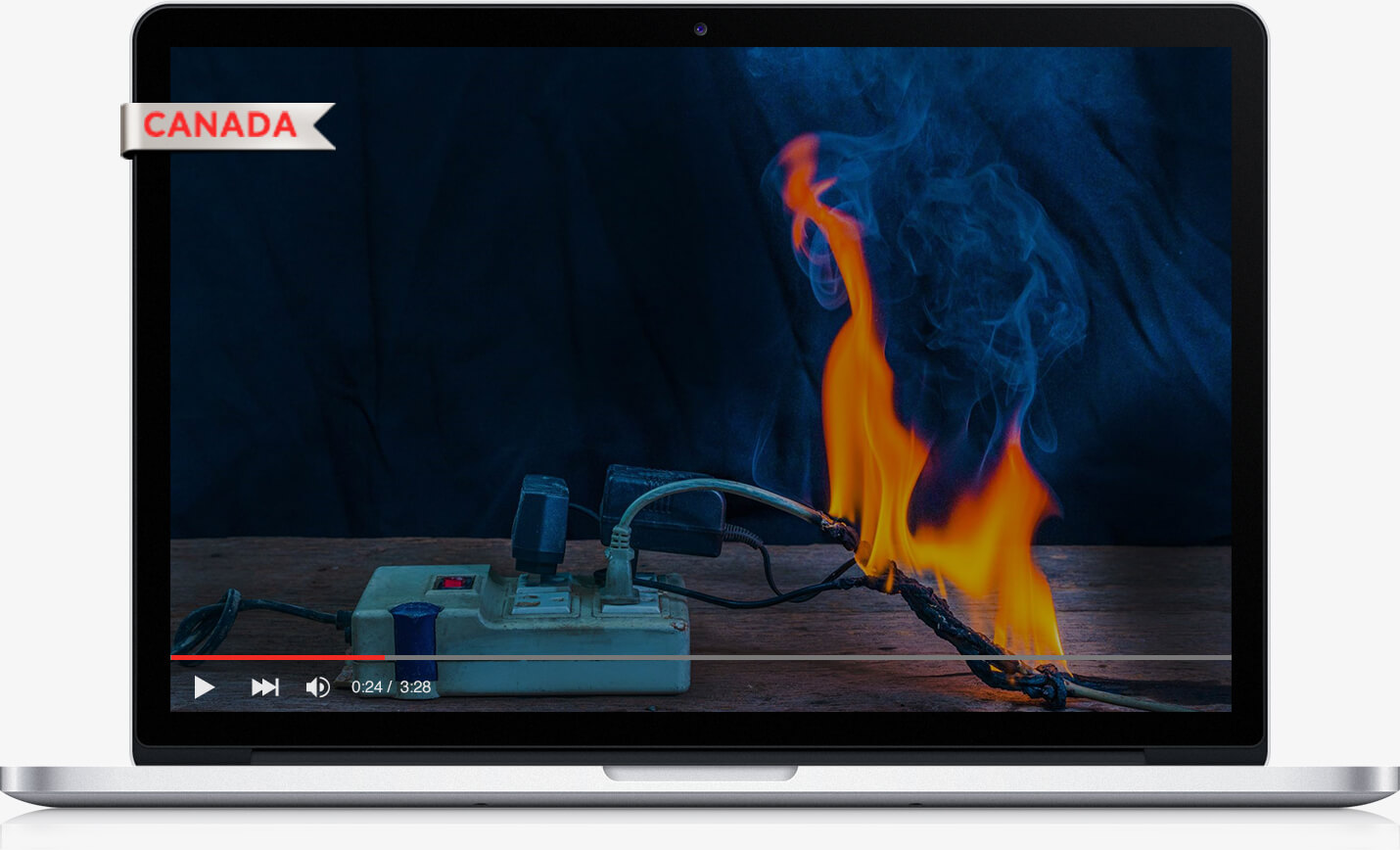 Accepted Across Entire Canada
Alberta
British Columbia
Manitoba
New Brunswick
Yukon
Nova Scotia
Ontario
Prince Edward Island
Quebec
Saskatchewan
Northwest Territories
Newfoundland and Labrador

In most modern workplaces, electrical hazards are hidden behind panels and boxes, but can still prove fatal if not handled properly. Electrocution occurs when the human body comes in direct contact with a live circuit, an exposed wire, or any other conductor.
Depending on several factors, electrical current running through the body can cause varying degrees of damage, from burns to respiratory failure and, ultimately, cardiac arrest. As such, employees must be trained to avoid electrical hazards, as well as prepared to respond to an electricity-related emergency.
All employees who work near electricity, though not directly with it, can benefit from this course in Electrical Safety and Awareness. Employers must be equally aware of potential electrical hazards in their establishments, which means they must also undergo special training.
Although electricity is present in almost all modern work environments, employees in certain industries are at a higher risk of electricity-related injuries. These industries include:
Oil & Gas,
Seismic,
Mining,
Construction,
Automotive & Manufacturing,
Agriculture & Food,
Office Work.
To comply with the Government of Canada's Occupational Health and Safety Act, employers must ensure a safe work environment for all employees. This includes the implementation of electrical safety and awareness training for employees who are at risk of electricity-related injury.
At the same time, it is workers themselves who must undergo the necessary safety courses and effectively apply the strategies they learn while at work. To improve their CVs prior to an interview, some candidates also choose to independently purchase and complete this course.
To become certified, you must understand the basics of energy flow, insulation, and barriers, as well as be able to explain the dangers associated with the improper use of electricity. Moreover, you will be asked to demonstrate awareness of the five primary electrical hazards for the human body and describe the safety measures can be implemented to avoid such perils in the workplace.
Employees should review this course in Electrical Safety and Awareness on a yearly basis. Since electrical hazards can have potentially life-threatening consequences, it is essential that you remain up to speed with the latest safety standards.
Electrical Safety and Awareness is usually acquired together with Personal Protective Equipment, Fire Safety, and/or Fire Extinguisher Training.
You can access an extensive list of safety courses recommended for your line of work by visiting our industry-related pages and selecting your specific job. The suggested package is meant to help you comply with regulations and maintain your safety in any work environment.
We have Certified Employees of:
1
Course Overview
In this module you will learn how electricity works, why Electrical Safety Training is important, types of injuries and their effects as well as the electrical hazards and how to reduce them
2
Electrical Safety
Throughout this module you will learn about Electrical Safety, Grounding, Circuit Protection and Extension Cords, Safe Work Practices and Lockout/Tagout as well as Electrical Shock Emergencies and Fires.
WHY CHOOSE eSafetyFirst
Hassle-free online training
eSafetyFirst is the convenient, hassle-free online training solution for anyone who needs fast Electrical Safety training or re-training. This course isn't your average, bland workplace safety course that workers forget.
Each module is engaging, memorable, and fun! Workers can finish the course AND exam the SAME DAY or go at their own pace. Employers benefit from our bulk pricing and fast, simple training.
Employees can get their practice out of the way fast and have fun doing it!
Employer Discounts
1-3 workers

$

36.95/worker

You

save 26%
4-7 workers

$

32.95/worker

You

save 34%
8-12 workers

$

28.95/worker

You

save 42%
13-20 workers

$

24.95/worker

You

save 50%
21-50 workers

$

20.95/worker

You

save 58%
>50 workers
Contact us for Custom Offer
OHS Standards Compliant
Learn at Your Own Pace
Printable Certificates
Industry Recognized
Instant Access
Unlimited Exam Attempts
Dedicated support
100% Employer Approved