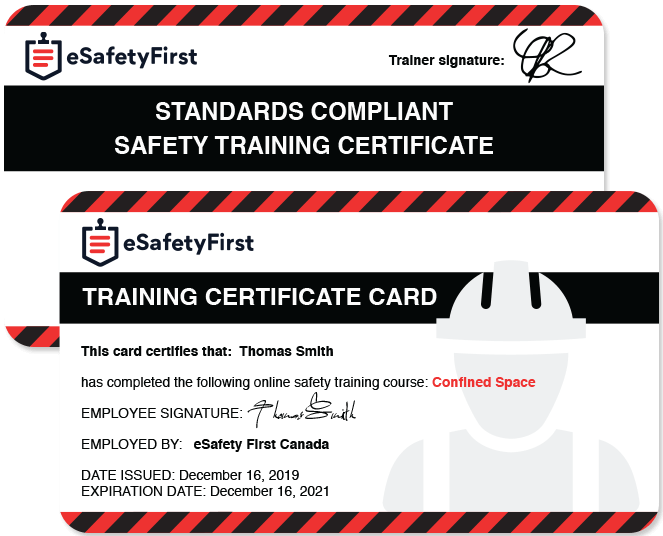 Confined Space Training Online
Course description
Confined Space training is required for workers who may enter restricted areas as part of their job responsibilities. Confined spaces are not designed to be inhabited for long periods of time, which is why specialized training is needed to manage the risks associated with controlled entry and exit, as well as emergency situations.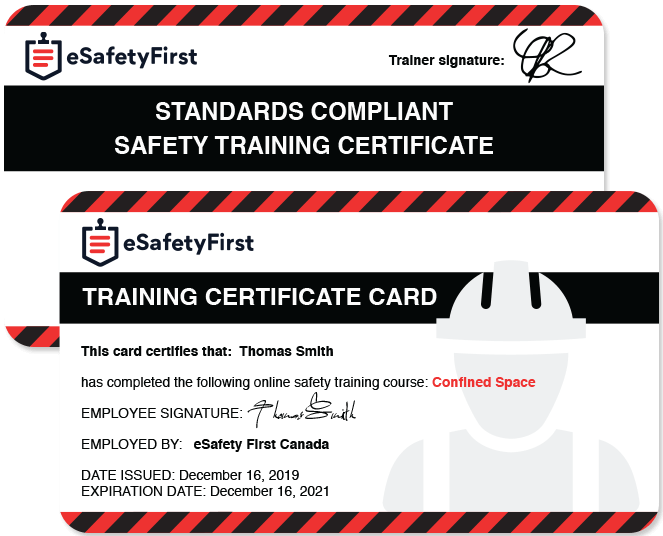 Accepted Across Entire Canada
Alberta
British Columbia
Manitoba
New Brunswick
Yukon
Nova Scotia
Ontario
Prince Edward Island
Quebec
Saskatchewan
Northwest Territories
Newfoundland and Labrador

This Confined Space safety course helps workers become aware of the hazards associated with confined space entry and offers complete information on how employees can safely conduct their activities within these narrow spaces. The latter are categorized into several typologies, which are then used to illustrate the types of personal protection equipment required in each instance.
In addition, the training expands on MSDS (material safety data sheet) precautions and the dangers inherent to working with or around wastewater. The program also provides details on safety protocols in case of emergency exit or crisis situations.
Confined Space training is required by all jobs where employees might work in or around confined spaces, even if this only happens for less than a full day per year. The course is geared towards existing employees, as well as businesses looking for an affordable solution to comply with the latest safety regulations.
Many industries require their employees to work in confined spaces. The most common are:
Oil & Gast.
Seismic.
Energy & Electricity.
Construction.
Waste Management.
It is common for HR departments to inform workers of the safety certifications required by their job, including Confined Space training where this is the case. Legally speaking, it is the obligation of the employer to guarantee that adequate and sufficient safety training is implemented, whereas the employee must complete the required training programs and apply what they have learned.
Nonetheless, many potential job candidates complete the course independently, as a way to improve their hiring odds and update their CVs.
Workers who undergo the Confined Space training program acquire in-depth knowledge about confined spaces and their typologies. Students are able to accurately recognize and assess confined space hazards and indicate what protective measures must be taken in order to mitigate the risks associated with the former. Lastly, workers must know exactly what protocol to follow in case of a confined space emergency.
Employees who work in or around confined spaces must undergo a related safety course at least once a year. An unqualified employee can endanger both their health and that of their colleagues, which is why appropriate and updated training is mandatory.
This Confined Space safety course is commonly purchased alongside Respiratory Protection, Heat Stress Prevention, Personal Protective Equipment, and Fall Arrest.
To view a comprehensive list of safety certifications likely to be required in particular line of work, please access our industry-related pages, where safety programs are clustered by job titles.
We have Certified Employees of:
1
Introduction to Confined Spaces
This module is intended to provide a brief overview of Confined Spaces, as well as the OHS requirements for entry into those places.
2
Confined Spaces Hazards
This module is intended to provide a detailed description of Confined Spaces Hazards, the danger they pose and different ways to prepare for them.
3
Testing the Atmosphere
This module is intended to provide a detailed description of Atmosphere Testing and the procedure that needs to be done before entering a confined space.
4
Safe Entry
This module is intended to provide the necessary information for every worker in order to safely enter confined spaces, and avoid any hazard that could put their lives in danger.
5
PPE, Requirements for Permits and Rescue Procedures
This module is intended to provide the necessary information concerning the Personal Protective Equipment and Requirements for Entry Permits and Rescue Procedures.
WHY CHOOSE eSafetyFirst
Hassle-free online training
eSafetyFirst is the convenient, hassle-free online training solution for anyone who needs fast Confined Space training or re-training. This course isn't your average, bland workplace safety course that workers forget.
Each module is engaging, memorable, and fun! Workers can finish the course AND exam the SAME DAY or go at their own pace. Employers benefit from our bulk pricing and fast, simple training.
Employees can get their practice out of the way fast and have fun doing it!
Employer Discounts
1-3 workers

$

36.95/worker

You

save 26%
4-7 workers

$

32.95/worker

You

save 34%
8-12 workers

$

28.95/worker

You

save 42%
13-20 workers

$

24.95/worker

You

save 50%
21-50 workers

$

20.95/worker

You

save 58%
>50 workers
Contact us for Custom Offer
OHS Standards Compliant
Learn at Your Own Pace
Printable Certificates
Industry Recognized
Instant Access
Unlimited Exam Attempts
Dedicated support
100% Employer Approved