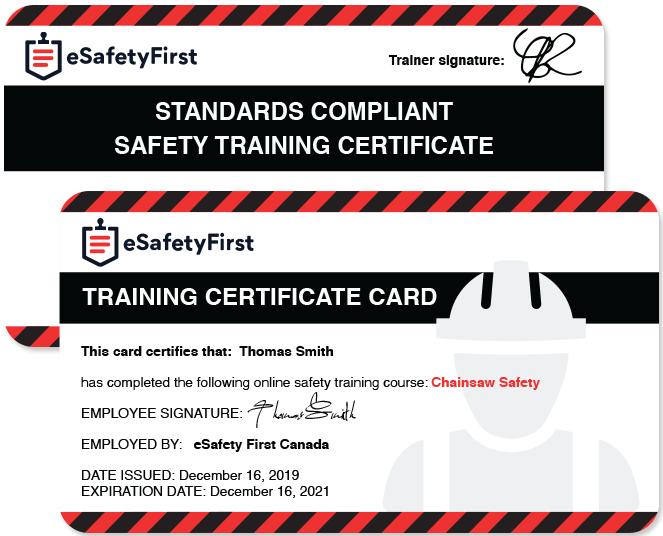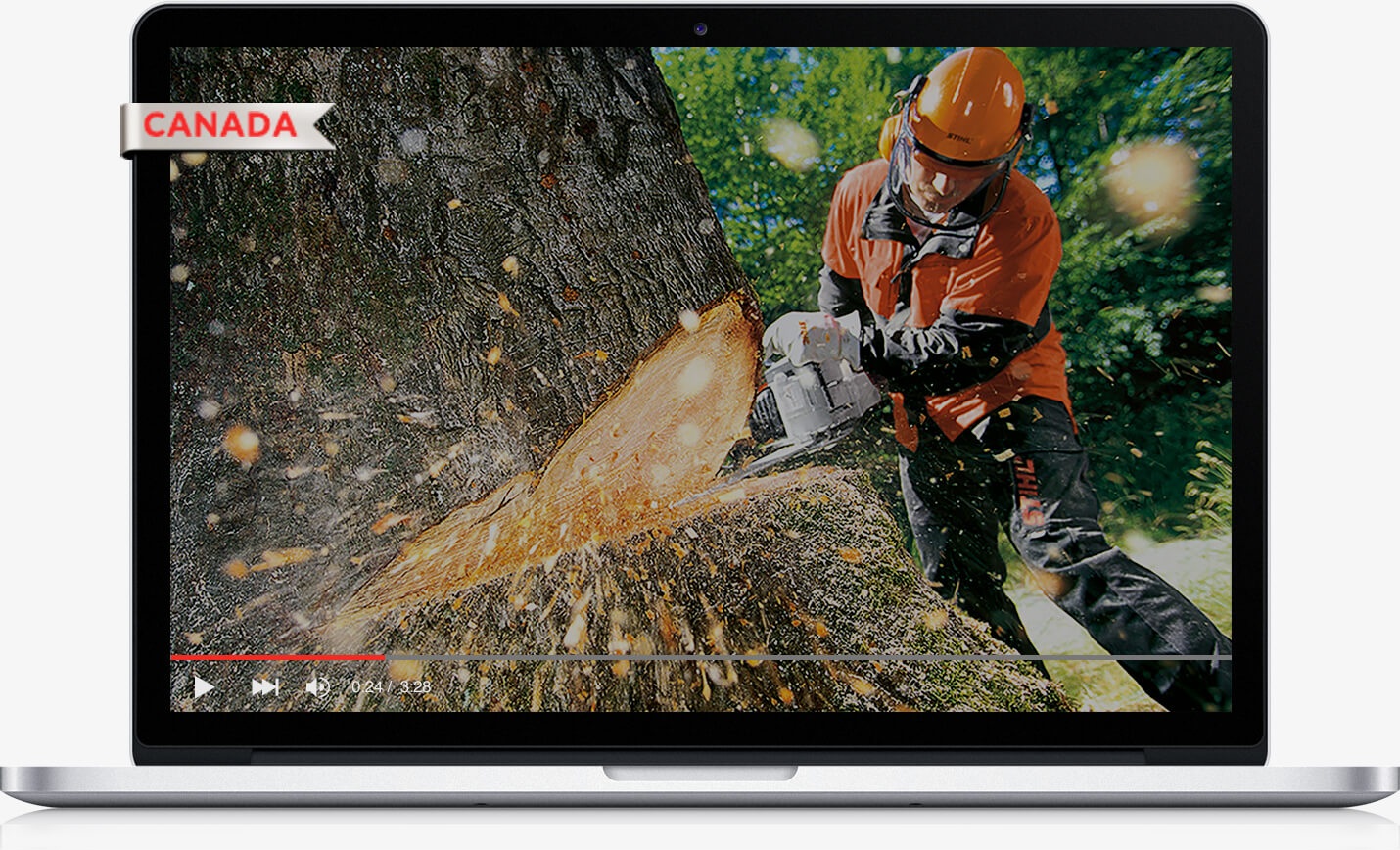 Course description
This online chainsaw safety training course has been developed and updated in accordance with Standard CSA Z62.1-15 (R2020).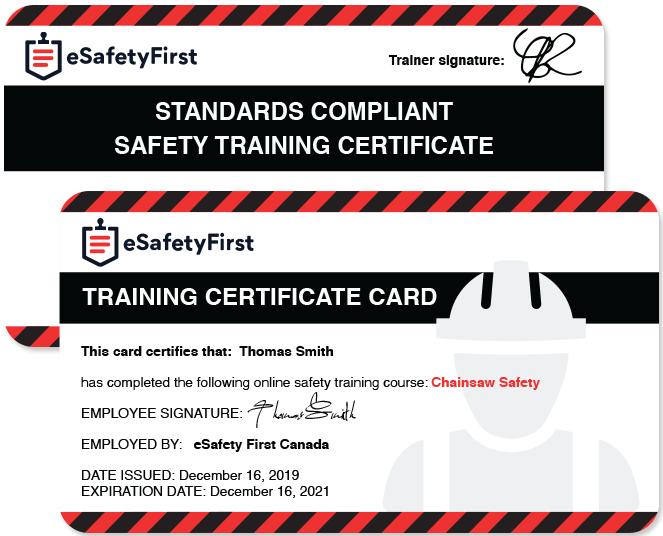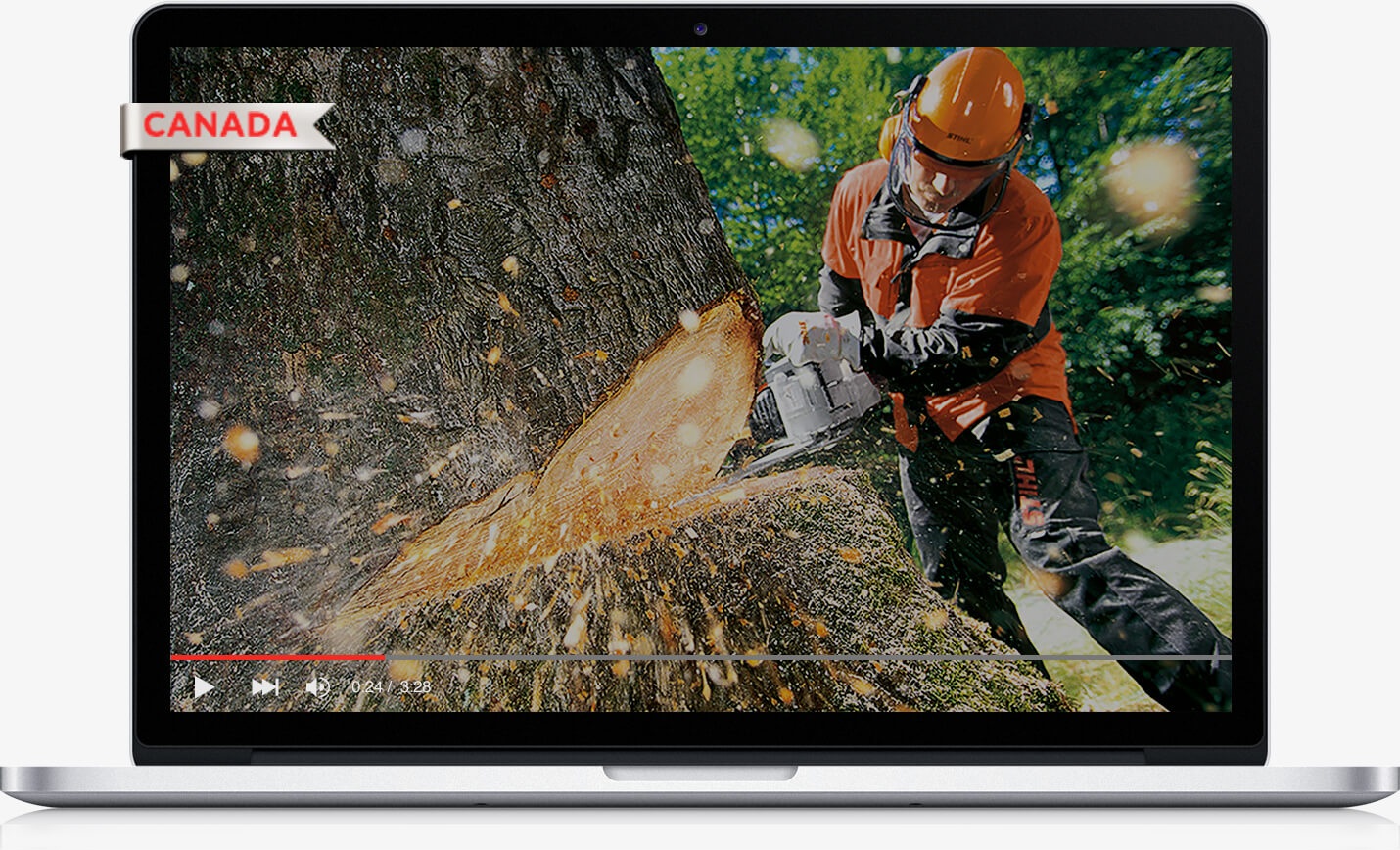 Accepted Across Entire Canada
Alberta
British Columbia
Manitoba
New Brunswick
Yukon
Nova Scotia
Ontario
Prince Edward Island
Quebec
Saskatchewan
Northwest Territories
Newfoundland and Labrador

Albeit indispensable, the chainsaw presents several inherent dangers that workers must be familiar with prior to operating the tool. For example, a series of forces – including kickback, pull-in, and pushback – can lead to irreparable injuries and even death if not taken into account while the chainsaw is being used. Powerful vibrations, flying debris, and hazards specific to industries where chainsaws are frequently used must be considered with equal concern.
This Chainsaw Safety course focuses on identifying possible chainsaw hazards and assessing risks prior and during use. Employees are taught how to choose the correct personal protective equipment for chainsaw operations, as well as how to respond immediately in case of an accident.
All workers who operate a chainsaw as part of their routine duties should undergo Chainsaw Safety training. The course is geared towards businesses looking to comply with the latest safety regulations at an affordable cost, but can also be acquired individually by existing or potential employees.
Certain industries are more likely to demand the use of a chainsaw. These include:
Logging & Forestry,
Construction,
Automotive & Manufacturing,
Mining.
Canadian businesses are under legal obligation to ensure that all of their employees are working in a safe environment. As such, it is the employer's responsibility to implement Chainsaw Safety training for all workers who may be required to use this power tool in order to complete different tasks.
However, it is the employee who must undergo the safety course, acquire the necessary information, and finally pass an evaluation. What's more, potential employees who are being considered for a new job can also complete this course individually in order to improve their CVs.
To complete this safety course, you must understand the anatomy of a chainsaw and the common hazards associated with the use of this power tool. In addition, you must demonstrate your familiarity with PPE requirements specific for chainsaw use, as well as be able to describe safe operation techniques and commonly used protection measures.
Workers who frequently use chainsaws – especially in the logging and forestry industries – should take this course on a yearly basis. Accidents involving this power tool can lead to debilitating or event deadly injuries, which is why employees should stay in touch with the latest safety procedures.
Chainsaw Safety is often paired with Personal Protective Equipment, Fall Arrest, and Lone Worker.
To view a complete list of safety courses best suited for your specific line of work, please visit our respective industry pages and select your job. The suggested bundle will include programs designed to offer comprehensive safety training for hazards commonly associated with your work environment.
We have Certified Employees of:
1
Introduction to Chainsaw Safety
Throughout this module you will learn about the Parts of a Chainsaw, How to Select the Best Chainsaw Based on Your Usage, Chainsaw Safety Features as well as Common Hazards in Chainsaw Operations.
2
PPE Requirements, Safe Handling and Operating Procedure
Throughout this module you will learn about PPE Requirements, Safe Handing Tips and Safe Operation for Different Logging Procedures.
WHY CHOOSE eSafetyFirst
Hassle-free online training
eSafetyFirst is the convenient, hassle-free online training solution for anyone who needs fast Chainsaw Safety training or re-training. This course isn't your average, bland workplace safety course that workers forget.
Each module is engaging, memorable, and fun! Workers can finish the course AND exam the SAME DAY or go at their own pace. Employers benefit from our bulk pricing and fast, simple training.
Employees can get their practice out of the way fast and have fun doing it!
Employer Discounts
1-3 workers

$

54.95/worker

You

save 31%
4-7 workers

$

51.95/worker

You

save 35%
8-12 workers

$

48.95/worker

You

save 39%
13-20 workers

$

45.95/worker

You

save 43%
21-50 workers

$

41.95/worker

You

save 48%
>50 workers
Contact us for Custom Offer
OHS Standards Compliant
Learn at Your Own Pace
Printable Certificates
Industry Recognized
Instant Access
Unlimited Exam Attempts
Dedicated support
100% Employer Approved