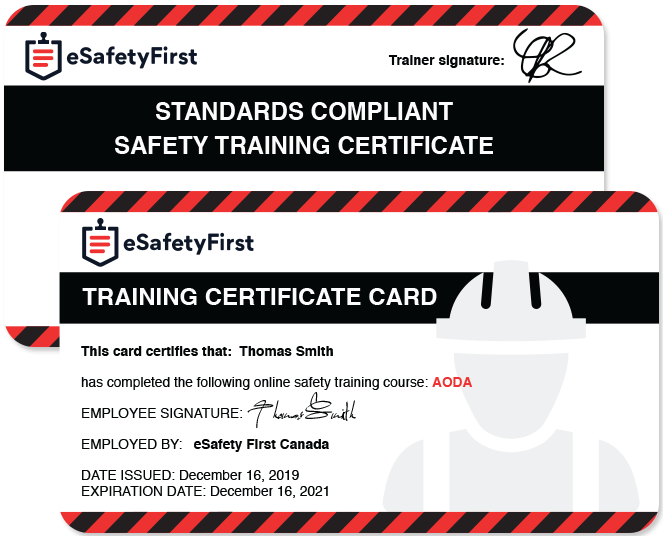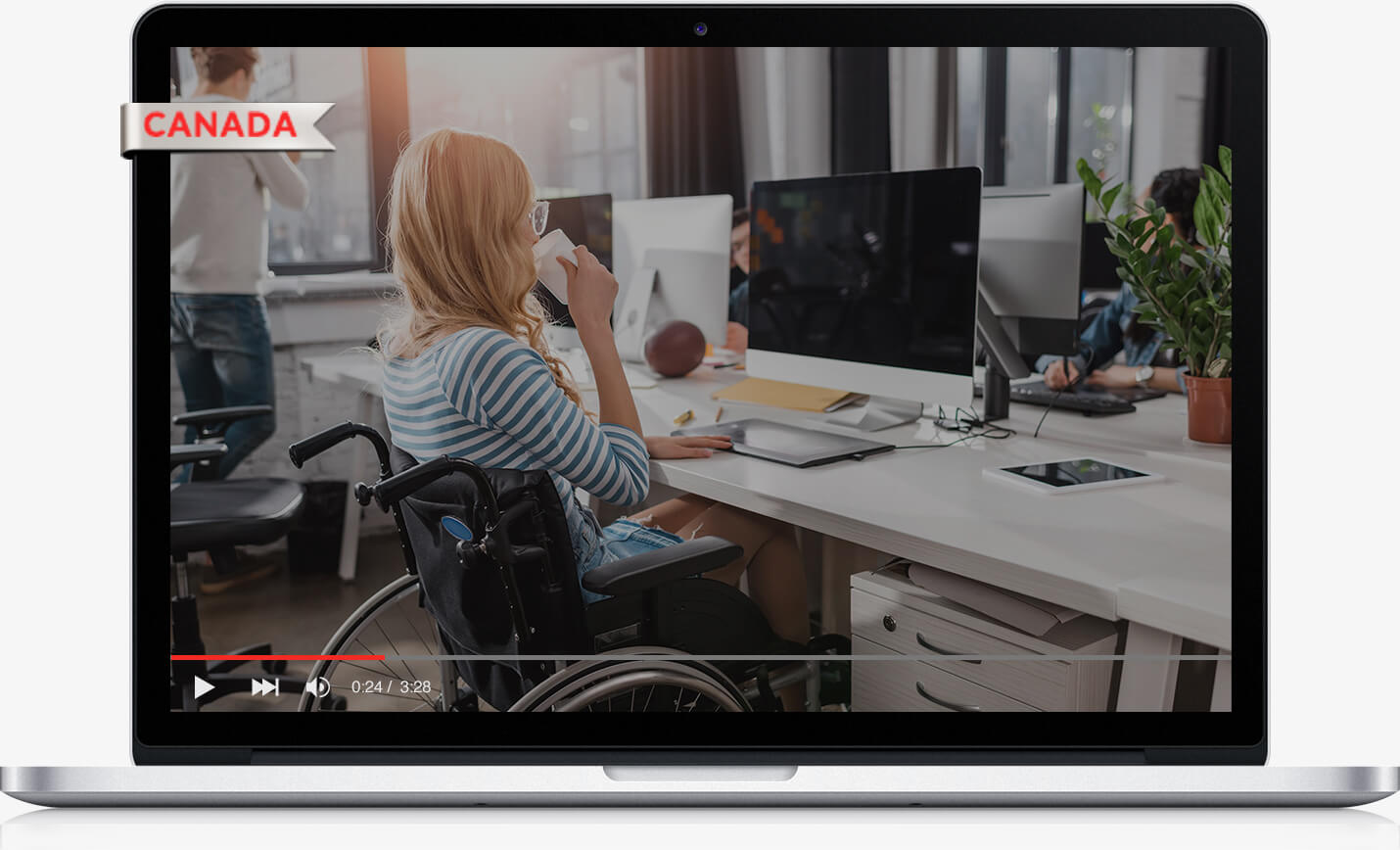 Course description
AODA requires businesses and non-profits who conduct operations on the territory of Ontario to train their staff on how to interact with individuals suffering from various disabilities. The latter include both visible and non-visible impairments ranging from vision or hearing loss to learning disorders, developmental disabilities, and more. The aim of this training is to render workplaces more open and inclusive to vulnerable people.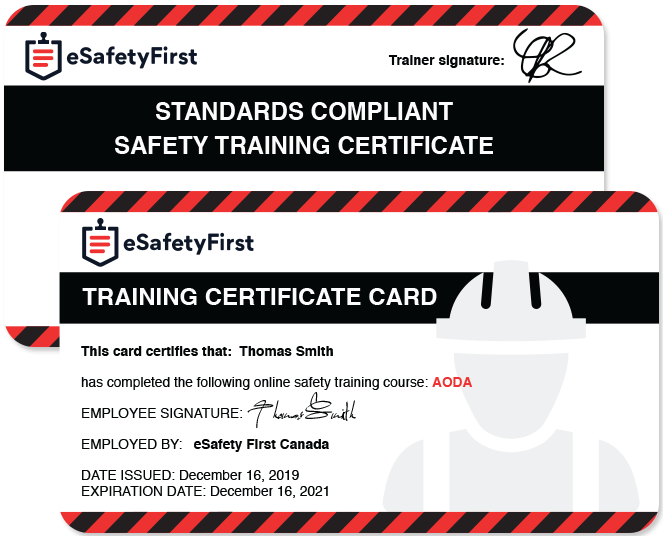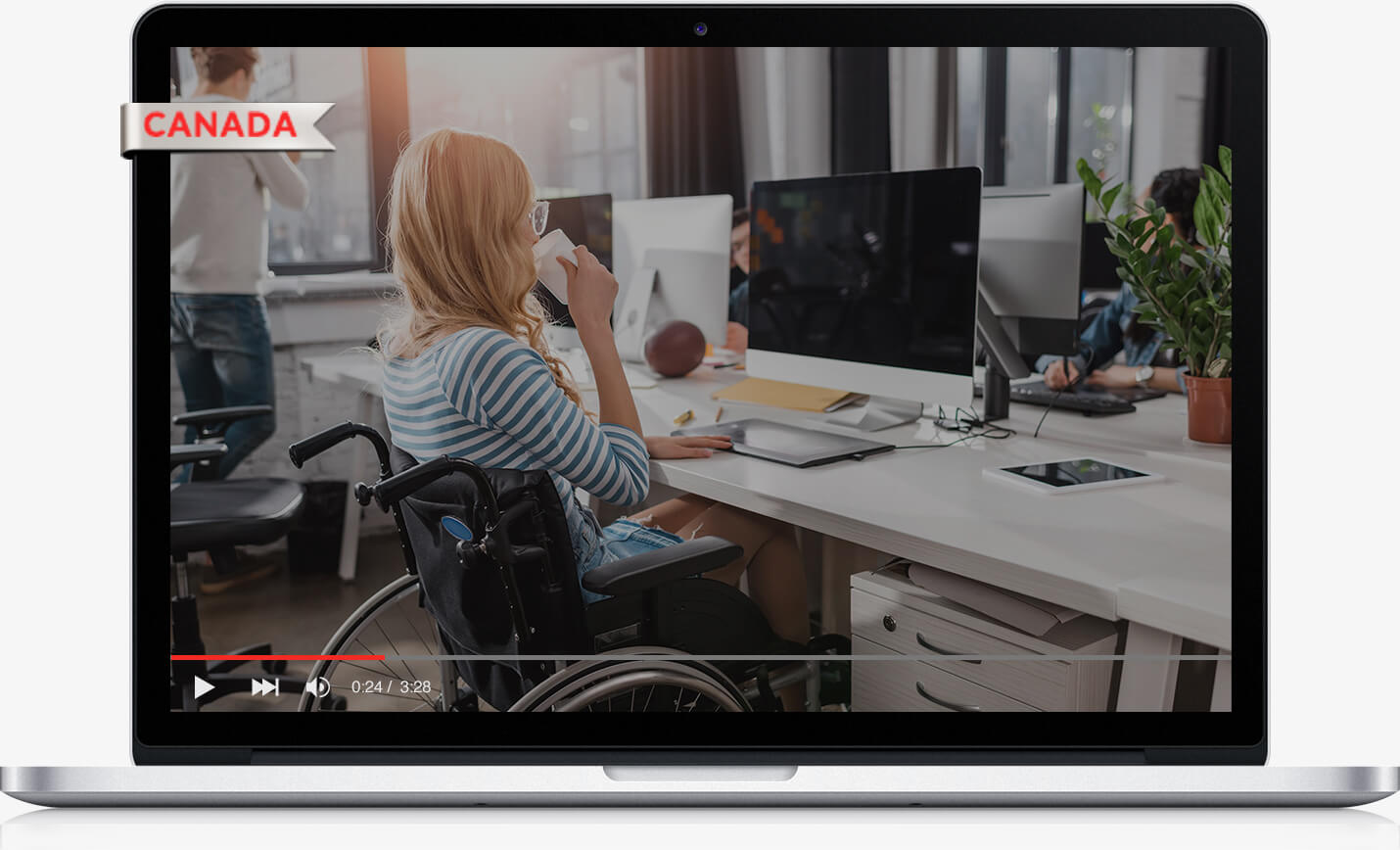 Accepted Across Entire Canada
Alberta
British Columbia
Manitoba
New Brunswick
Yukon
Nova Scotia
Ontario
Prince Edward Island
Quebec
Saskatchewan
Northwest Territories
Newfoundland and Labrador

In 2005, the Legislative Assembly of Ontario passed the Accessibility for Ontarians with Disabilities Act (AODA). This ruling officially made AODA training a legal requirement for anyone who works in the province of Ontario.
The program is designed to help workers better interact with people with disabilities. Upon completion of the course, employees will be able to offer excellent customer service, as well as establish tailor-made business to business relationships with individuals suffering from various impairments.
AODA training is mandatory for paid workers (new or current), volunteers, consultants, contractors, services and/or goods providers, and even board members. The Ontario legislature mandates that accessibility training be commenced immediately after a new worker is hired, which is why recruiters often pay more attention to candidates who have already completed an AODA course.
Industries where AODA training is imperative include, but are not limited to:
Pharmaceuticals and Healthcare,
Office Work,
Hospitality and Tourism,
Education & Research,
Agriculture and Food,
Logistics (Shipping and Warehousing).
Ontarian legislation clearly states that it is the employers' responsibility to facilitate access to AODA training as soon as possible after a new employee is hired, as a way to ensure the continuity of accessible work environments and appropriate customer interactions.
In addition, staff members are legally required to undergo this training and apply what they have learned throughout their interactions with disabled individuals. Because of the immediacy of this certification, many job candidates acquire their AODA certification prior to their interview, as a way to enhance their CVs.
AODA training includes a variety of techniques that are meant to help workers render their customer service and work environments more accessible to people who suffer from various impairments. Employees will be taught how to appropriately interact with colleagues, professionals, and clients who are afflicted by specific disabilities. The course's ultimate aim is to establish a series of respectful and attentive behaviors meant to cater for the needs of vulnerable categories.
Ontario workers will be required to re-take their AODA certification regularly, often on a yearly basis. Even though the legislation was implemented over a decade ago, many employers and workplaces still fail to abide by these standards.
People who purchase AODA training often do so together with Conflict Resolution, Office Ergonomics, and Workplace Harassment.
For a complete list of safety courses required by a specific line of work, please navigate to our industry-related pages, where training programs are grouped by occupation. The aim of these courses is to help employees and their employers create a safe work environment that is nurtured by an informed culture of workplace safety.
We have Certified Employees of:
1
Module 1 – Introduction to AODA
Throughout this module you will learn about: What AODA is, Legislation, Benefits of Being Compliant with AODA & Accessibility Policy Plan Outline.
2
Module 2 - Information and Communication Standards
Throughout this module you will learn about: Communication Factors, Website and Web Contents, Formats and Communication Supports & Awareness Training.
3
Module 3 - Employment Standards
Throughout this module you will learn about: Recruiting, Interviewing, Hiring & Accommodation.
4
Module 4 - Transportation Standards
Throughout this module you will learn about: Transportation Standards, Training, Conventional Transportation & Specialized Transportation.
5
Module 5 - Design of Public Spaces Standards
Throughout this module you will learn about: Public Spaces, Recreational Trails, Outdoor Areas & Accessible Parking.
6
Module 6 - Customer Service Standards
Throughout this module you will learn about: Purpose of Customer Service Standards, Customers with Physical, Visual and Hearing Disabilities, Accessibility Features & Service Animals and Support Persons.
WHY CHOOSE eSafetyFirst
Hassle-free online training
eSafetyFirst is the convenient, hassle-free online training solution for anyone who needs fast AODA training or re-training. This course isn't your average, bland workplace safety course that workers forget.
Each module is engaging, memorable, and fun! Workers can finish the course AND exam the SAME DAY or go at their own pace. Employers benefit from our bulk pricing and fast, simple training.
Employees can get their practice out of the way fast and have fun doing it!
Employer Discounts
1-3 workers

$

26.95/worker

You

save 23%
4-7 workers

$

23.95/worker

You

save 32%
8-12 workers

$

20.95/worker

You

save 40%
13-20 workers

$

17.95/worker

You

save 49%
21-50 workers

$

14.95/worker

You

save 57%
>50 workers
Contact us for Custom Offer
OHS Standards Compliant
Learn at Your Own Pace
Printable Certificates
Industry Recognized
Instant Access
Unlimited Exam Attempts
Dedicated support
100% Employer Approved